VPNs are growing in popularity due to security and privacy concerns. VPN allows you to protect your privacy, secure information, and bypass censorship. If you are looking for the best VPN services, then you are on the right path. Out of all the VPNs, ivacy is the best and recommended.
In this article, we will explain what is a VPN, why you need a VPN. We are also sharing our hand-picked list of the 5 best VPN services for WordPress users.
What is VPN and Why It's Important?
VPN is a Virtual Private Network that helping you secure your connection and protect your identity.
We all use the internet on multiple devices, from multiple locations, and sometimes from public internet spots.
A compromised public WiFi can give hackers access to your personal information such as passwords, credit cards, browsing history, personal files, etc. They can install malware on your WordPress website, hack social media profiles, steal your bank account details and more.
Even a direct internet connection at your office or home can be used to view data transferred to and from your devices.
VPN helps you secure your data connection and protect your identity. It allows you to browse the internet securely using encryption and from different countries (IP addresses). This way you can bypass country-specific content restrictions on websites like YouTube, Netflix, BBC, etc.
As a WordPress website owner, using a VPN improves your WordPress security. If you are already using SSL on your website, then using a VPN completely hides your activities behind various encryption layers.
How It's Work?
Usually, all your network traffic travels through different servers spread across the world. Governments can see which websites you are visiting, and what you are doing online.
A VPN creates a private network that acts as a point to point network between your personal computer and your VPN server.
When you request to open a site from your computer using a VPN, your VPN client encrypts your request and then sends it to the server. then The VPN server requests the information from the destination website and encrypts it before sending it back to your computer.
This allows you to keep your internet connection secure and away from the eyes of hackers, your internet provider, and governments.
let's take a quick look at the 5 best VPN services and how they stack up against each other.
1. IPVanish
IPVanish is one of the popular VPN service providers in the world. They offer the easiest to use VPN service that can be used by beginners as well as experts.
It allows you to simply connect to their private secure network. They have apps for all popular mobile and desktop platforms including Mac, Windows, iOS, and Android.
All these apps are totally easy to use with their simple user interface. You can together use the same account on up to five devices at any given time.
They also have a large network of 40000+ shared IPs, 750+ VPN servers in more than 60+ countries. You can use your IPs from any country. IPVanish app will even suggest the most active servers to chose from.
Speed is a serious matter for most users. It is faster than most VPN service providers due to its robust network, capacity, and better support.
All connections are encrypted with 256-bit encryption technology which is the biggest industry standard. It allows infinite P2P connections (used for torrents) with no bandwidth. They also have a strict zero log policy, which means they don't keep any record of your online activities.
2. StrongVPN
StrongVPN is another top VPN service provider with more than 12000+ customers around the world. Their powerful network is spread across 24+ countries and 47+ cities.
StrongVPN offers powerful industry-standard encryption with no bandwidth caps for all accounts. They also offer StrongDNS service which allows you to bypass censoring without compromising speed. You can use both of these mutually for complete privacy, or you can only use StrongDNS to bypass censorship.
StrongVPN has apps for Windows, Mac, iOS, and Android devices. All apps are quite easy to set up and use even for non-tech savvy users. They don't have any limit on a number of devices you connect with a similar account, so you can use it on all your devices.
3. NordVPN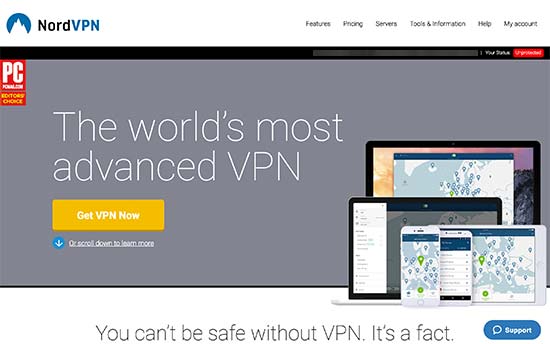 NordVPN is a famous VPN service provider with a large network of 766 worldwide server locations in 58+ different countries.
It comes with easy to use apps for all your devices allowing you to connect to VPN instantly and shift between geographic locations without revealing your identity. You can connect up to 5 devices at a time using various servers and locations.
They use the most leading industry-standard encryption with a double layer encryption technology for higher security. This makes it perfect to be used when accessing the internet over public WiFi locations.
NordVPN also allows P2P connections to download caps which makes them a popular choice among VPN for torrenting. They have a zero log policy to ensure the privacy of their customers. They have automatic kill switch built-in which means if your connection breaks, then it will not compromise your connection privacy.
4. ExpressVPN
ExpressVPN is another VPN service provider with a powerful network of 145+ locations in 94+ countries. They offer industry-standard encryption to protect your privacy and keep your internet protected.
It comes with easy to use apps for all stages and devices. It offers unlimited server switching, allowing you to hop from one location to another with the click of a button.
You can simultaneously connect up to 3 devices using the similarly VPN account, which is lower than other VPN providers on this list.
it allows you to use file-sharing settings and P2P connections without limiting downloads or speed. They also have a zero-logging policy to secure your privacy.
5. OverPlay
OverPlay is a large VPN service with all the settings you will need for rock-solid online privacy and security. Their large network consists of 650+ servers spread across 70+ locations in more than 50 countries.
They offer industry-standard encryption to secure internet access with zero-logs policy to secure privacy.
They also offer SmartDNS service which allows you to search the internet without encryption. This is especially helpful if you are only trying to access blocked websites.
Combining SmartDNS with VPN service does your internet connection secure and private without compromising on speed even from public WiFi points.
OverPlay VPN also offers universal peer to peer connections without bandwidth or download caps. It also has apps for all modern devices and platforms.
Conclusion:
After carefully checking all these VPN services, we believe that IPVanish is the best VPN service currently available. They offer the best protection, easy to use apps, a huge network, and flashing fast speeds.
StrongVPN is the second-best option on the list. They offer a similar set of features as other VPN service providers with additional StrongDNS service.
We hope this article helped you find the 5 best VPN services for WordPress users.
If you liked this article, then don't forget to follow us on social accounts. Twitter and Facebook.