Several new skills, such as graphic design, are increasingly being acquired by content creators, marketers, social media influencers, etc. When making a simple graphic for posting online, you can make it stand out with a few simple edits.
Fantastic graphic design tools bring your creations to life and enhance your marketing efficiency.
Here is a list of the top 12 graphic design software you can use to enhance your website and other imagery projects.
Platform: Windows, Mac, Android, iOS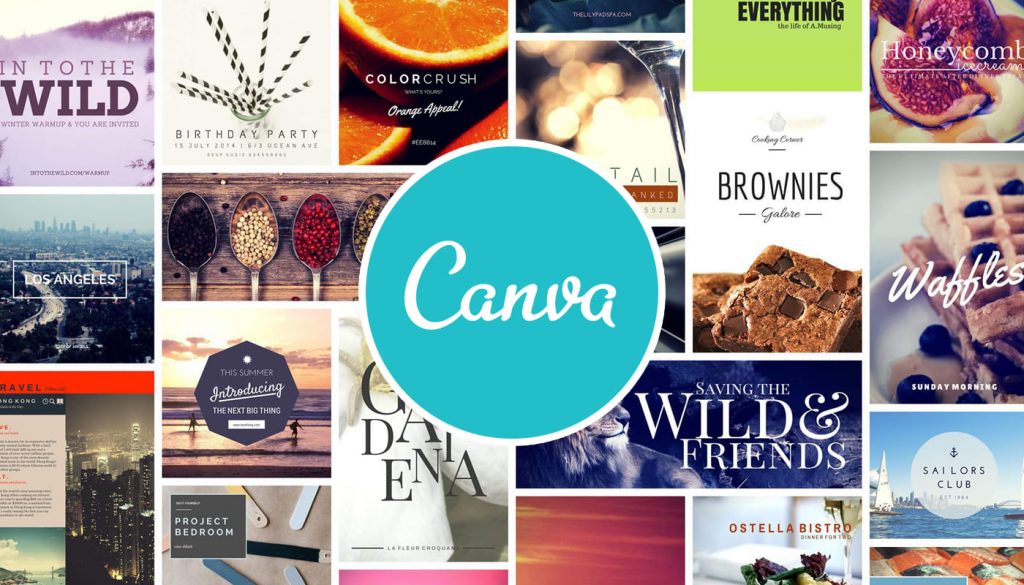 Canva has templates for a number of different types of projects, including ebooks, infographics, business cards, and email headers. Create your own professional-looking website by personalizing the free web design tool developed by non-designers. They offer a wide range of templates that can be easily customized.
There is a free version of Canva that includes all the features you need. Its free version is perfect for new designers to work with templates. The free account gives you access to hundreds of thousands of free images and graphics, allows you to work on projects with your team, and lets you save files with 5GB of free cloud storage. But the paid version comes with more complex tools and features, including team sharing.
Platform: Windows
This graphic design software is one of the best free options for beginners. A large library of images is available, as are hundreds of free template designs (over 10,000). An easy-to-use interface is included, as well. Despite the fact that you can also build custom templates with it, DesignWizard is a great tool for beginners who need a free graphic design tool.
With DesignWizard's basic version, you can download videos and images as you go. Besides the Pro version, there's a Business version for $49.99/month ($449/year) and a $9.99/month for $9.99/month ($99/year). The free basic version does not include more advanced features, but it will still provide everything you need to get going and start editing.
Platform: Windows, macOS, Linux, Chrome OS
The creators of Corel Draw developed a vector design software called Gravit. This free graphic design software for Windows and Mac provides a lot of tools for creating vector art while having a self-adapting interface. It is also available for ChromeOS and Linux. There is a desktop version of Gravity Designer as well as a web version. An internet connection is all it takes to use it.
In Gravit Designer's free version, you can store 500MB of files online, export PDFs, and create PDF files. You are likely to find all the features you will need in the free version of Gravit Designer. A visit to Gravit Designer is definitely worthwhile. Although there is an optional "PRO" version of the software available for $49 annually.
Platform: Windows, Mac, Linux
On Inkscape's website, the software is designed for designers across a variety of fields, including marketing and branding, engineering and CAD, web graphics, cartooning, and individual users. A key element of Inkscape's tagline is "draw freely" – it is free and offers a long list of features for beginners as well as for professionals.
The download package contains a number of design tools for vector art, cross-platform compatibility, and a large community. There is one downside of the sluggish controls. If you're looking to quickly create and publish designs, you might find the controls frustrating.
Glorify is an easy-to-use yet powerful graphic design tool that allows you to plan, design, launch, and analyze all your big ideas in one place. It is a lifesaver if you're looking to easily create high-quality images without the need for pricey outsourcing. 
Glorify makes design accessible to all. Entrepreneurs, marketers, agency owners, designers, and just about any busy professional can use this tool to create aesthetic images that convert. 
It is also super useful to Ecommerce enthusiasts who need a simple, quick solution to make their products stand out in a saturated market. With simple tools for beginners and advanced features for designers, Glorify provides a great alternative to other design tools out there.
Features
Has thousands of fully customizable ready-made templates
Offers fully customizable 3D mockups and mockup scenes 
Has branding tools such as a logo maker, brand kits, and template bundles
Collaborative features and workspaces make it ideal for teams
Has an ambitious roadmap with several future features lined up
Has amazing customer support 
Pricing:
Glorify offers a free plan for those just getting started. Monthly subscriptions to their Pro and Business plans cost $39.99 and $99.99 respectively. However, if you choose either plan as a yearly subscription, you will get a 25% discount.
Platform: Windows, Mac, Linux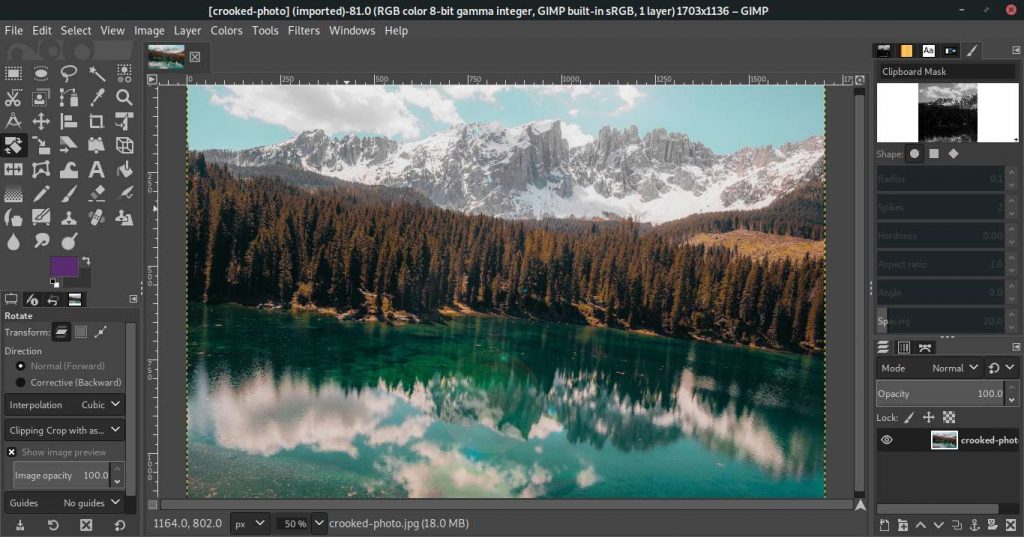 The GIMP graphic design software is a great free alternative to Photoshop. The software isn't available online, but you can download it to a Linux, Mac, or Windows computer. The GIMP program is known as GNU Image Manipulation Program and it is a free tool for retouching photos,
It is highly regarded as a free design application because it supports all file formats, allows for easy retouching of images, and allows for the fast creation of new designs. Furthermore, Gimp boasts an intuitive interface that allows even experienced designers to utilize its features.
Platforms: Windows, Mac
Setka describes itself as "everything you need to create content that converts." It provides branded content across your website, ads, and social media – all within your existing CMS or in the cloud.
Although Setka Editor is available free for two weeks, companies must choose one of three service plans to unlock additional features and continue to use Setka.
Platform: Windows, Linux, Chrome OS, Web Browser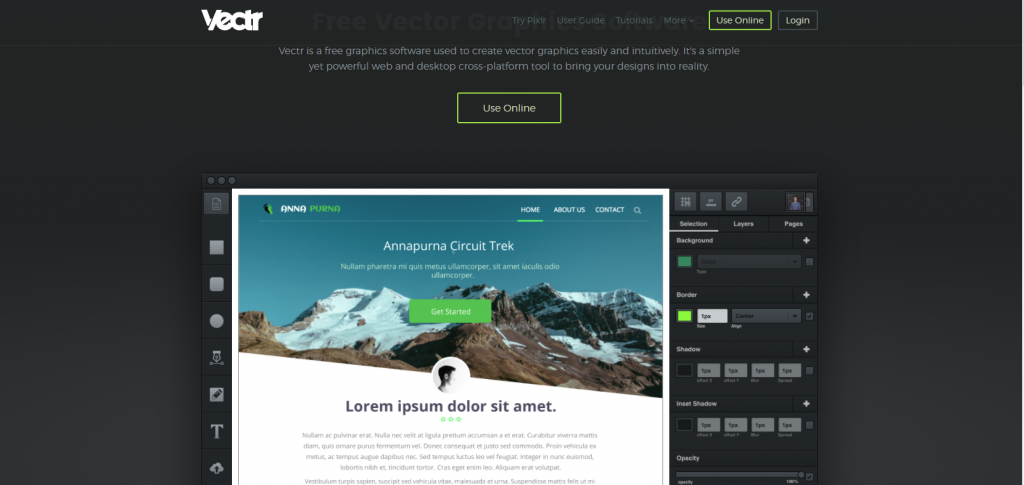 Vector is a free graphics software that offers a simple interface for creating vector graphics. Vectr can be downloaded or used in your web browser as a downloadable program. The website includes several tutorials on how to create beautiful presentations, from getting started to creating them.
Vectr offers real-time URL sharing as one of its best features. With Vectr, you can share a document with anyone in real time. The desktop version and the web app both allow users to edit designs live. Because of this, it makes it a wonderful collaboration tool.
Platforms: Windows, Mac, Android, Linux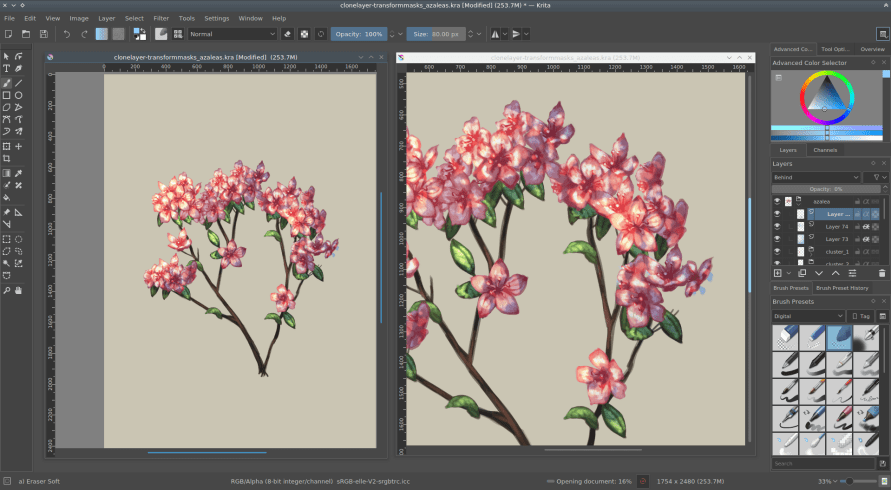 You can paint with Krita for free thanks to its open-source, free software. The ongoing development of this tool relies on donations and is driven by the needs of the design community as a whole. This is why Krita includes an intuitive user interface, a powerful toolset, and an intuitive resource manager.
In the hands of an experienced graphic designer, Krita can make a significant difference in boosting your business' graphic design impact. During this list of software, other solutions offer a better fit for beginners looking for simple, streamlined solutions.
Platforms: Windows, Mac, Linux
Open-source 3D creation software Blender provides graphic designers with the tools they need to create everything from character animation to rendering and motion tracking. Furthermore, Blender supports 2D animation, and its active user community contributes to its improvement.
To make the most out of Blender, you must know your way around graphic design basics, as it is a powerful tool with complex menus and a large number of options.
Platform: Windows
Updated to feature more functionality, the classic Microsoft design tool is free to download. Paint 3D features realistic textures, a 2D cutout creation tool, and a variety of 3D tools and effects, though it cannot compete with some of the more robust design apps on our list.
It's the perfect place to start for beginners looking for a simple interface for graphic design. Due to Microsoft's creation, the tool works on all Windows 10 devices. In addition, there is virtually no learning curve for using it.
Platform: Web browser, Windows, macOS, iOS, Android
Another great design program that you should check out is Pixlr. Editors such as Pixlr X and Pixlr E facilitate easy and quick graphic design and photo editing, respectively. It provided layouts, templates, text, effects, filters, additional elements, and other basic graphics design features.
Pixlr's "Remove Background" tool stood out to me among its features. Templates are another great feature of Pixlr, and there are plenty of free ones available. There are also a variety of social media elements available on Pixlr, such as YouTube thumbnails and Instagram stories. Other templates include PowerPoints, resumes, business cards, newsletters, invitations, and photo collages.
Platforms: Windows, macOS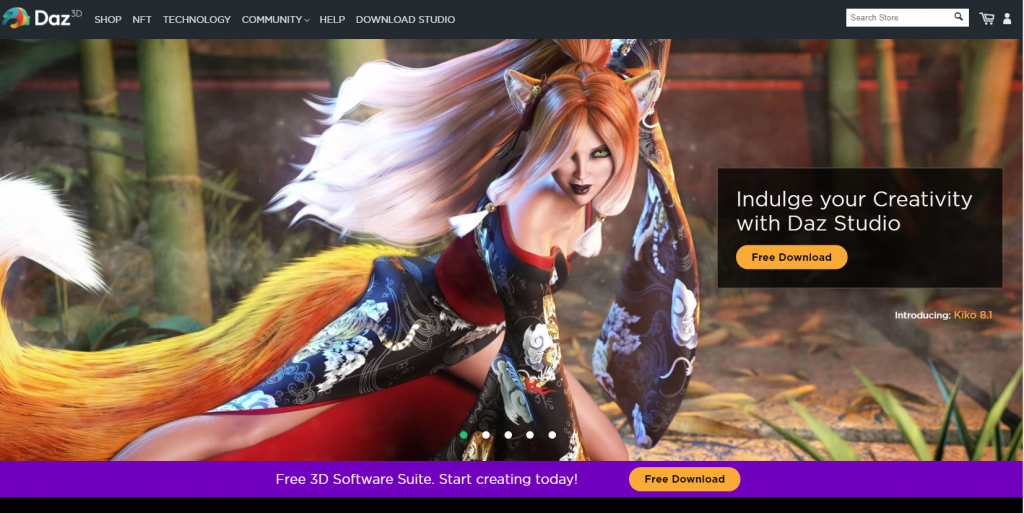 There is no doubt that Daz 3D is an excellent free graphic design program that is particularly helpful for animators, illustrators, and designers. It is focused on 3D design and gives you the option of building scenes and characters from scratch or using its extensive content library. Daz 3D allows you to create both images and animations.
Windows and macOS devices are supported by Daz 3D. As there is no mobile app or online version of the software, you'll have to download the program and use it on your computer. You can however get help in getting the most from free software by seeking out resources available online for free.
Conclusion
Even though professionals may sometimes be worth it, most of the time, you can find everything you need in free graphics design software. You can change the background of a photo, add text and elements, create social media graphics, create digital illustrations, or do anything else that wants to be done completely free of charge.
Whichever free graphics software (or combination of programs) you choose to use for editing your perfect image, you're sure to save a lot compared to paid options.