Graphic design is important for our business as well as our life in many ways. Graphic design is a way to communicate with others and show our idea and thoughts in a beautiful way. It has also the power to show our work in less content but in a deep. Graphic design has a big role to play in the modern competitive environment of business. Businesses always need the services of graphic designers to create impressive marketing materials and show their work to people. The year of 2019, there were a few trends like 3D design and typography, Isometric design to minimalism and open compositions. Let's discuss what will be trending in 2020.
Gradient Colors
Gradients are colors of transitions, it is a gradual blending from one color to another color. Because gradient is a mix of different color shades so it is a different color in itself. Gradients may in the trend of 2020 because they're so eye-catching and attention-grabbing and it can enhance the beauty of any design. Gradients use in web design, Logo design, Apps and in many different fields.
---
Abstract 3D and Bright Colors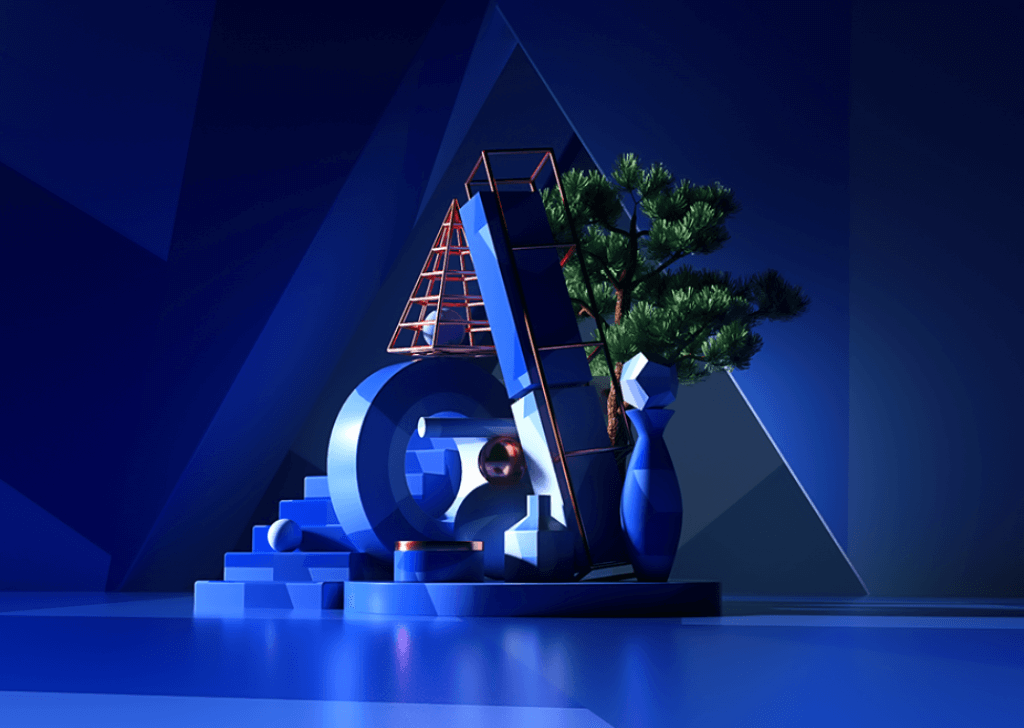 Abstract shapes are manly use in graphic design and web products because they hold meaning. Abstract 3D can be used in the 3D model, Logos, Web designs and videography. The abstract 3D illustration can easily create with Adobe Photoshop.
---
Shiny Metals
Shiny metals give and object a luxurious and eye-catching look. Designers prefer to use Gold & Silver more in their design. Shiny metals also use in business cards and logos. It can create strong brand identity physical materials such as business cards.
---
Line Art
Line art is the trend on top in 2019 and it will continue in 2020. Line art is a simple illustration style and it gives a clean and fine look at your design. There are many drawing apps available for design line art you can check Procreate and Adobe Illustration. Line art also helps to create forms, the border around the frames, printing products, logos, product packaging and a form of the divider.
---
Typography
If your design using typography you need to play with fonts to innovative and modern compositions. Artistic typography will be the perfect solution to attract any eye. Some brands also use bold typography in their designs.
---
Image and Text Masking
If you know the world of Graphic Designing, Image and text masking aren't the new techniques and this trend will rock the year 2020 as well. If you looking at social media like Instagram twitter you will probably see some good examples of typography. Its manly use in web designs.
---
Monochrome
The monochromatic coloring is the simplest color combination with high performance. When choosing monochromatic coloring in your graphic design you only need to use a single color and try it with different color levels to get the best result. Simply The monochromatic coloring is taking an original color and changing its shade to darker or lighter to bring a color range.
---
Geometric Design
Everywhere we look we can spot squares, lines, points, triangles, circles, rectangles all of those geometric elements and designer uses in their designs. The geometrical pattern can be used in many ways like blend patterns with photography, build geometric logos, create a geometric gradient, pattern with scale. Graphic designers continuously play with their graphics based on geometrical illustration patterns, backgrounds, textures, and vector elements.
Geometric lines illustrate objects that are man-made but more technological, where the curvy lines represent more natural and organic styles. Designers always play these line styles to achieve impossible shapes.
Conclusion
We can say graphic design trends 2020 are just the beginning we will see some more interesting graphic design trends like 3D depth and realism to the strong bright color effect image with text masking to geometrical graphics. Graphic design is a part of our life we see something new and changing in graphic designing. Any graphic design trends list would be incomplete without a vintage-inspired look we should always inspire with vintage and classic designs.
Hope you liked this article please share your thoughts below in the comment section.