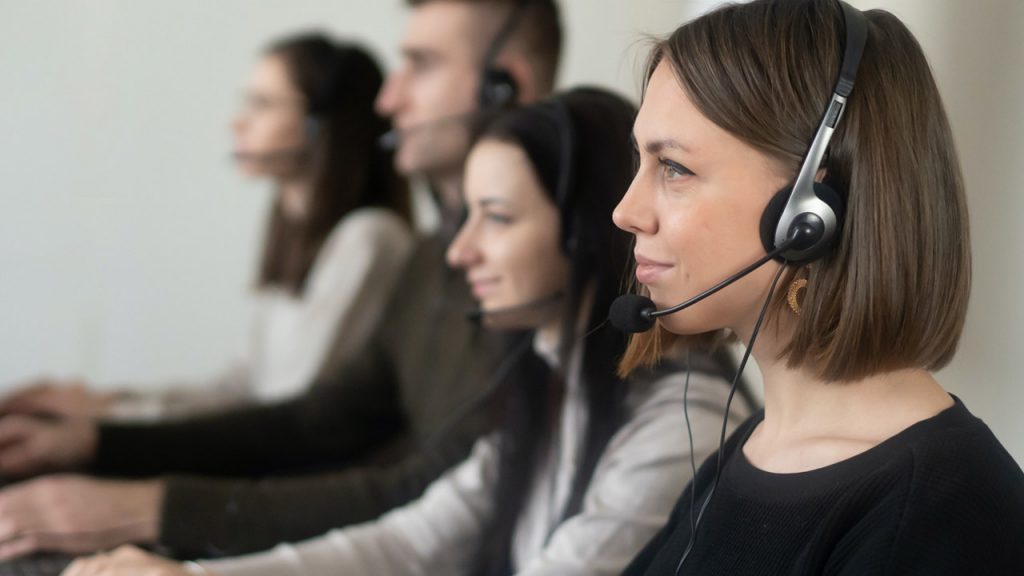 In this article, we will evaluate Nextiva, RingCentral, and Ooma VOIP services, which are among the leading providers of business VOIP services. These services are essential for small businesses to effectively communicate with their clients. By examining the features and offerings of each provider, we aim to assist you in selecting the most suitable VoIP provider for your small business.
What is VOIP Service?
VOIP stands for Voice over Internet Protocol. It is a technology that allows users to make phone calls and transmit voice data over the Internet instead of traditional phone lines. VOIP service refers to the provision of this technology by service providers.
VOIP service providers offer various features and benefits to their users. They typically provide a phone number that can be used to make and receive calls from any device connected to the internet, such as smartphones, computers, or dedicated VOIP phones. Users can make both local and international calls at a significantly lower cost compared to traditional phone services.
VOIP service also offers additional features such as call forwarding, voicemail, caller ID, conference calling, and video conferencing. These features enhance communication capabilities and provide flexibility for businesses and individuals.
The quality of VOIP calls has significantly improved over the years, with advancements in internet speed and technology. However, it can still be affected by internet connection quality and bandwidth limitations.
VOIP service provides a cost-effective and flexible solution for voice communication, enabling users to make calls from anywhere with an internet connection. It has become a popular choice for businesses and individuals looking for an alternative to traditional phone services.
VOIP Service Comparison: Nextiva, RingCentral, and Ooma
Small organizations frequently utilize VoIP phone services for teamwork, customer service, and sales purposes.
Among the leading VoIP companies catering to small enterprises are Nextiva, RingCentral, and Ooma VOIP services.
These companies offer a range of features including virtual numbers, cost-effective local and international call rates, toll-free lines, and more, thereby facilitating streamlined team communication.
Given the competitive nature of the business phone services market, choosing the most suitable provider for their enterprise is a daunting task for small business owners.
To simplify the decision-making process, we will compare Nextiva, RingCentral, and Ooma to determine which company offers the best business VoIP service.
Comparison of Prices
Comparing Features
Available Integrations
Alternatives for Customer Assistance
Conclusion: Mobile App Comparison Finding the Best Small Business VoIP Provider: Nextiva vs. RingCentral vs. Ooma?
Comparison of Prices
One of the main considerations for small businesses choosing a VoIP service provider is cost.
All three of our competitors provide very affordable pricing for features that are equivalent. They do, however, employ a variable pricing structure based on the number of users, length of the plan, and features.
Price for Nextiva
Nextiva offers flexible pricing based on the number of users, payment period duration, and chosen feature plans. For example, if you have over 20 users, you can begin with a monthly cost of $18.95 per user (when paid annually).
You can begin for $23.95 per user per month if you have fewer than 4 users (paid annually).
This implies that if your company expands and you add additional individuals to your account, your costs will decrease.
Price for RingCentral
A slightly different pricing approach is used for RingCentral's pricing plans.
For up to 20 people, their Basic plan starts at $19.95 per month per user (paid annually)
This implies that you can save some money and yet have the opportunity for expansion if you have a smaller staff of less than 20 users.
Ooma Pricing
Ooma VOIP service has rather an obvious pricing. Regardless of the number of users, their prices vary depending on the plan you select.
This implies that if you select the Essential plan, you will continue to pay the same amount as your workforce expands.
Only month-to-month payment options are available with Ooma, allowing you to pay as you go and cancel at any time.
Comparing Features
When selecting a VoIP company, its features may be the most crucial factor.
All of Nextiva, RingCentral, and Ooma's business phone service options come with a tonne of features.
Yet, you must select one based on your own needs. Video conferencing, for instance, could not be crucial for certain small businesses while becoming a deal-breaker for others.
Whatever pricing option has the elements you require is an additional crucial factor to take into account. Each VoIP package offered by them offers a different set of features.
Nextiva Features
One of the top providers of commercial VoIP services, Nextiva VOIP service provides a unified communications platform with the best features for the money.
US and Canadian domestic calls are free forever.
Voice quality in HD
Voicemail, voicemail to SMS, voicemail to email notifications and voicemail transcription
support for conference phones, desk phones, and other possible phone devices.
Applications for desktop computers, iPhone, Android, and browsers
Call records, call routing, auto attendant, interactive voice response, and more.
Moreover, multiple team members can use the same number.
For improved lead management, you can also link your own CRM programme or use Nextiva CRM.
In essence, you can operate your own little cloud-based call centre for a small fraction of the cost with a tonne of cutting-edge features to save you time and money.
RingCentral Features
RingCentral competes fiercely with Nextiva in terms of functionality.
They provide all the functionality for business phones that a small firm would require and perhaps more.
Calling within the US and Canada is unrestricted.
Free local and toll-free numbers are available.
Support for SMS and voicemail
voicemail to text notifications
Video conferences and meetings
Desk phone assistance
Call analytics in real time
All standard VoIP phone functions, such as call forwarding, are available from RingCentral.
Call management, call waiting, number sharing, and other services.
It also integrates with a number of well-known CRM programmes, including Salesforce, Zendesk, and others.
Ooma Features
Many features in Ooma Office's VoIP services are available to support the expansion of your small business.
Nonetheless, their more expensive plans offer access to some functions. For instance, their PRO package is the only way to access the desktop app and text messaging.
According to the plan you select, you should receive the following features:
Numbers, both local and toll-free
Local calls to the US, Canada, Mexico, and Puerto Rico are free and limitless.
voicemail, call waiting, call recording and other call features.
Integrations with Microsoft Dynamics, Office 365, and Google are available.
Integration with Salesforce (only with Pro Plus plans)
Ooma provides the capabilities that VoIP customers most frequently ask for, but it lacks some of the features that the other top competitors offer.
Current Integrations
Integrations enable you to link your VoIP phone service to other programs and online services that you might already be utilizing.
Integrations with CRM programs like Salesforce, Zendesk, Hubspot, and others are necessary for many firms. They are able to handle consumer interactions with ease and keep track of leads without losing them thanks to this.
Let's compare the integration scores of our leading candidates.
Integrations by Nextiva
Nextiva provides thorough integrations appropriate for all kinds of small enterprises.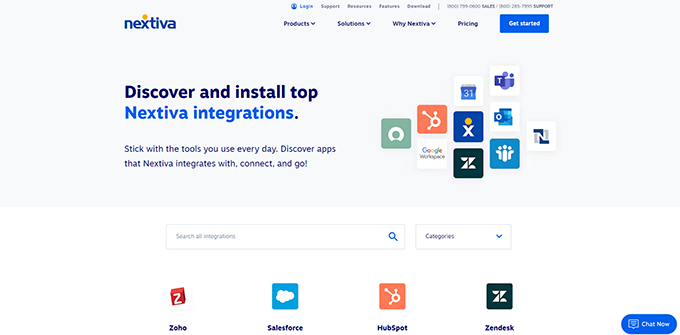 It features ready-to-use integrations for the best productivity programmes, team communication tools, CRM software, and more.
This includes applications like Microsoft Teams, Google Workspace, Salesforce, Zendesk, HubSpot, Zoho, and more.
Integrations by RingCentral
You can add apps and add-ins from RingCentral's broad list of connectors to your account.
They provide a number of apps for Microsoft Teams, Microsoft Dynamics, Google Workspace, Microsoft 365, and other platforms.
Its integrations also include popular CRM programmes like Salesforce, Zoho, HubSpot, and others that you may already be using.
Integrations by Ooma
Compared to Nextiva or RingCentral, Ooma VOIP service does not provide as many integrations. Google and Microsoft Office 365 connectivity is available with their Pro plan.
To gain access to the Salesforce and Microsoft Dynamics 365 connections, you must upgrade to their Pro Plus subscription.
The ability to track contact history and manage leads through your phone or CRM software is still available, but it will be less effective.
Alternatives for Customer Assistance
As VoIP phones are a more recent technology than traditional phones, many small businesses might require some assistance to get the most out of them.
Because of this, customer assistance should be a key factor in your decision about your VoIP phone service provider.
Let's evaluate the customer service solutions offered by our top rivals.
Customer Support for Nextiva
Customer service for Nextiva VOIP service is accessible via phone, email tickets, and live chat around the clock.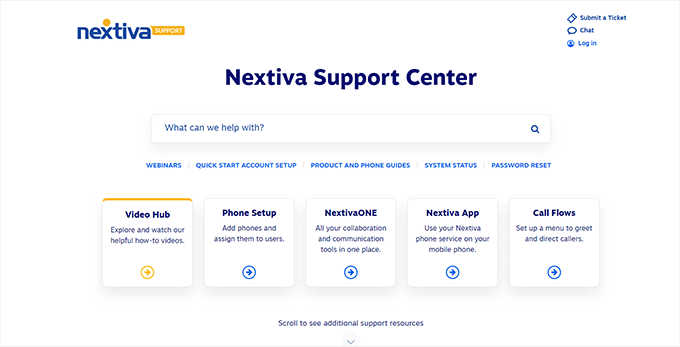 Also, they have a thorough knowledge library that addresses all of the often-asked questions by users.
Customer service employees are incredibly knowledgeable and willing to go above and above to assist you.
RingCentral Customer Services
Support is available from RingCentral round-the-clock via phone, live chat, and email tickets. They also feature a vast library of articles, how-to manuals, and other materials.
Response times from support staff are quick, and they are knowledgeable and very helpful.
Ooma Customer Service
The same customer service choices are available from Ooma and the other list of competitors.
This includes phone support, email tickets, live chat support available around-the-clock, and self-help materials.
App Comparison for Mobile
Since many companies are implementing remote or hybrid work models, it's crucial to take your VoIP service's mobility into account.
Because of this, remote teams can remain in contact and never miss a call, even when they are not at their desks.
All three of our competitors have mobile apps available for iOS and Android smartphones. Let's compare how well each of their mobile apps performs.
Mobile Applications for Nextiva
In addition to desk phone and laptop phone systems, Nextiva also provides apps for iOS and Android mobile devices.
These apps include a modern and simple user experience that makes it simple to send and receive texts, manage contacts, and make and receive calls.
Mobile Applications for RingCentral
For iPhones and Android cellphones, RingCentral also provides mobile applications. These apps are quite user-friendly and make it simple to manage calls while you're out and about.
Moreover, RingCentral provides distinct apps for its video conferencing system, Meeting Rooms.
Ooma in Mobile Applications
Ooma's Basic plan does not come with desktop apps, but all of its small business plans, including the Essential plan, do.
The app offers call and text features, as well as simpler contact management. Unfortunately, user feedback suggests that it is not particularly effective for many people.
Conclusion: Mobile App Comparison Finding the Best Small Business VoIP Provider: Nextiva vs. RingCentral vs. Ooma?
The best small business VoIP phone provider currently available, in our opinion, is Nextiva.
It has affordable rates, a tonne of features, the highest call quality, cheaper rates for international calls, and a large selection of numbers (local, international, toll-free, vanity numbers, and more).
RingCentral comes in second place. They provide many of the things that their rivals do while also providing a marginally improved mobile app experience. Use our RingCentral promo code to save money.
To determine which VoIP service is the best, we hope this post helped you compare Nextiva, RingCentral, and Ooma.