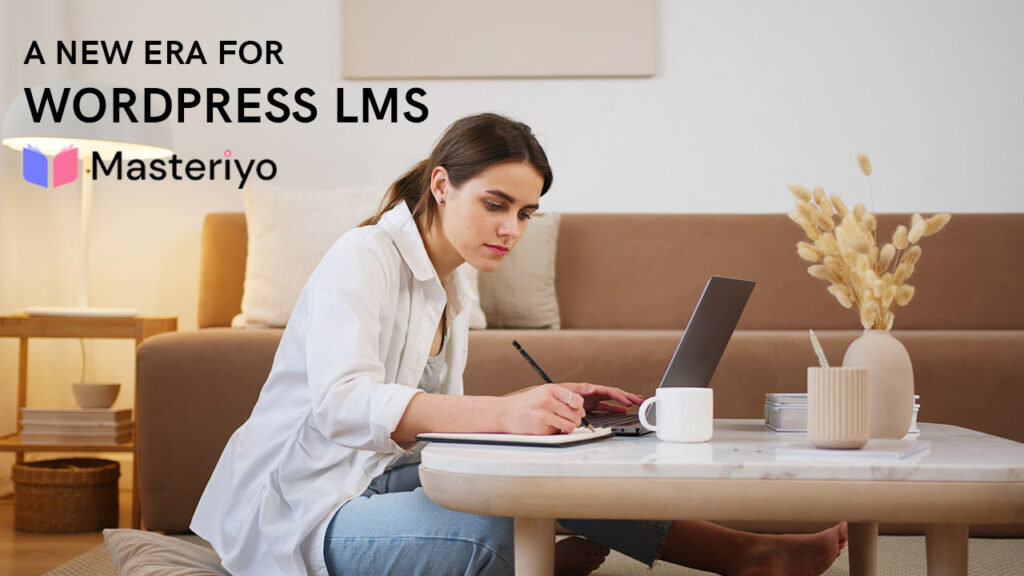 Masteriyo, the all-in-one WordPress LMS plugin, will let you enter the future of eLearning. Masteriyo makes everything simple, from setting up protected accounts to creating courses that are easy to follow along with to tracking your progress. You may strategically plan and deploy information using its unique information Drip function to keep learners interested and engaged.
With the Questions and Answers feature, encourage a dynamic learning environment, while the Review System helps to get insightful feedback. Masteriyo is not simply a tool; it is a revolution in eLearning that will change the way you teach and give learners more control. Try Masteriyo today and feel its power!
Discovering Masteriyo
It can be challenging to build an e-learning website. The task of gathering the course content must come first. The problem then becomes how to feature it on your website so that learners can easily access it.
Not to mention developing a payment system, providing quizzes, tracking progress, and making sure it's secure. Enter Masteriyo WordPress LMS, a full solution designed to streamline these procedures and make the creation of your eLearning site a breeze.
Without having to learn and integrate a jumble of plugins with your learning management system, you can quickly and easily develop and sell your online courses.
Create and sell online courses using the Masteriyo WordPress LMS
Educators may create and sell online courses directly on their websites with the help of the robust WordPress LMS plugin Masteriyo.
A quiz builder, course and certificate builders, a grade book, and assignment generators are just a few of the features that the plugin offers. There is a distraction-free study mode and Q&A sections to further improve the learning experience for pupils. Students can also rank and review the courses they are enrolled in. Instructors may see all of their students' learning progress in one spot.
You won't need a third-party plugin once you start selling your courses. The built-in order system for Masteriyo supports both Stripe and PayPal. To persuade students to sign up, you may also provide coupons and discount deals. Additionally, if you are already familiar with WooCommerce, it seamlessly interacts with your LMS created by Masteriyo.
For building a WordPress LMS website with all the features you need, Masteriyo is ideal.
Employing Masteriyo
You can design your WordPress eLearning site with the help of the extensive features provided by the Masteriyo plugin.
Installation
On their website, you can either buy the Masteriyo plugin or download a free trial version. Simply conduct a search under Plugins Add New in your WordPress admin. As you would with any other plugin, you install and activate it on your WordPress website.
The pro edition can be purchased with confidence because of Masteriyo's 14-day, 100% money-back guarantee. After making a Masteriyo purchase, you'll receive a link to the plugin's download page. You can insert your license key once WordPress has been activated, and you're ready to go.
The good thing is that if you upgrade from the free version, downloading Masteriyo Pro automatically deletes the previous version.
Install Wizard
A helpful setup wizard will show up on your screen as soon as you enable the Masteriyo plugin. Although you are able to skip it. It will save you a ton of time and headaches if you're putting up a WordPress LMS for the first time.
Configuring the course
You can configure your first course using the first section after the Welcome screen. The number of columns or courses per row that will appear on the main courses page is one of the options available to you.
Choose the number of courses to display on the course listings page under Courses per Page.
Quiz
In the Quiz area, you can use the slider to determine how many quiz questions should appear per page.
Pages
After that, you may specify which pages will contain your course content.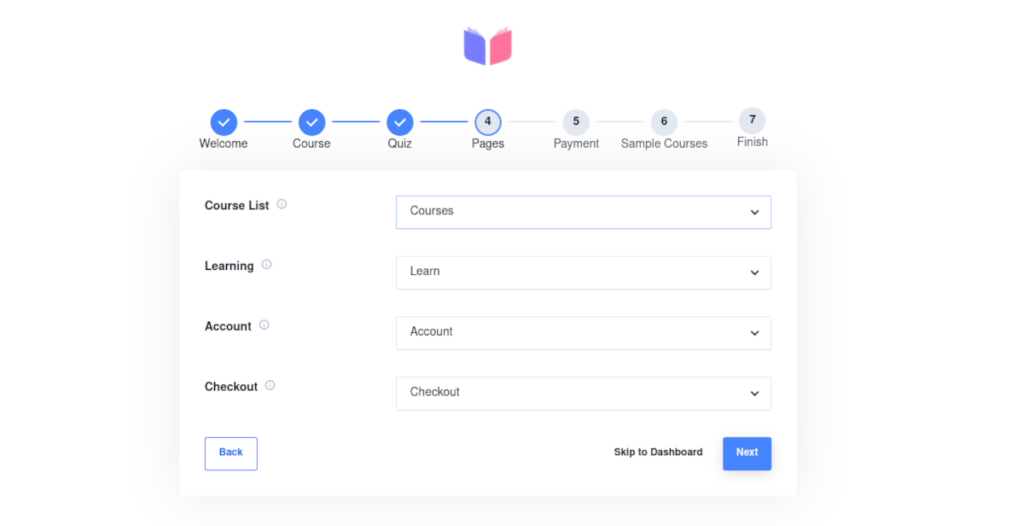 Although you have the option to choose any existing page for the Course List, Learning, Account, and Checkout sections, it's quite simple to get started because the Masteriyo plugin will automatically construct those pages for you. New pages can always be created and chosen for subsequent courses.
Payment
Select your currency and currency position—whether you want the sign to appear on the left or right—from the Payment menu.

Sample Courses
Being a first-time user of Masteriyo will be quite beneficial. You can see an example of a course's structure by viewing the sample courses that the plugin will install for you. The sample courses are editable however you desire.
If you prefer, you can also skip installing the courses.
Your first course is successfully set up, as seen on the Finish screen that follows. You can return to the dashboard and review and change your newly created course, or you can start over.
After activation, the setup wizard only launches once. The setup wizard should always be an option when creating a new course because it is so useful.

Masteriyo Features
Let's explore Masteriyo's wide range of features now that we've discussed its basic configuration. This plugin offers a wealth of features and add-ons that are all intended to help you build a strong eLearning website.

A number of features will be helpful to you if you wish to construct an eLearning site with lots of engagement chances. There is a Quiz Builder, a Q&A section, and a Review System. Content Drip, Course Prerequisites, and Course Attachments are also available as add-ons.
Quiz Builder
In an eLearning environment, quizzes are crucial for increasing engagement. They add an interactive component to the learning process and provide a useful tool for gauging a learner's understanding and progress. Quizzes encourage critical thinking and active participation from students by requiring them to put their knowledge to use.
FAQ Section
By encouraging an interactive learning environment, the Masteriyo Questions & Answers feature is intended to increase engagement and learning outcomes. With the help of this tool, students can ask questions and receive responses from teachers or their peers, encouraging interaction and improved comprehension.
This tool improves learning by allowing students to exchange ideas, ask questions, and work together to improve their learning experience.
Content Drip
The Content Drip function in Masteriyo is crucial for student engagement, especially in a self-guided learning environment. Instead of making every resource available at once, it carefully plans and publishes content for the course over time.
This approach has various advantages that distinguish Masteriyo from other Learning Management Systems (LMSs).
Pacing Learning
Maintaining Engagement
Improving Knowledge Retention
Encouragement of Consistent Learning Habits
Customization and adaptability
Please keep in mind that the Masteriyo Content Drip feature is only available to premium users and that it requires the Masteriyo core plugin to work.
System Review
The Masteriyo Review System is a feature that allows students to provide valuable comments about their course experiences. This approach provides instructors with insights regarding the strengths and shortcomings of their courses, allowing them to improve the content and the learning experience.
Security
Using the Password Strength Checker plugin, you can guarantee that your students choose a strong password when registering, making your site more safe. A Google reCAPTCHA add-on is also available to assist protect your forms.
Filter for Course Archives
Students may struggle to find exactly what they need if your LMS hosts multiple courses. The Course Archive Filter plugin greatly simplifies the process. Courses can be filtered by Category, difficulty level, rating, price, and price type.
Page Builder
Using the Elementor addon, you can access the page builder's widgets and components in Masteriyo.
Pricing Structure of Masteriyo
Masteriyo, once again, is free to trial, and there is no limit to the number of sites you may install. The free edition has few features and is intended to get you started. Community support, basic updates, and bug fixes are all included. You will also receive:
No Limits
Courses are unrestricted.
Lessons and quizzes are unlimited.
There are an unlimited number of instructors and students.
Highlighted Features
Drag and Drop Course Builder Course Review System
Page dedicated to distraction-free learning
Section of Q&A
Quiz Builder
Three categories of questions
Point System
Quiz
Starter and Growth are the two subscription payment tiers.
Starter
Starter includes a license for one site, Basic Premium Support and a year of Premium Updates, along with monthly new features and Addons. Additionally, the starter plan offers:
Social Share
Course archive filter
External URL video support
Certificate Builder
Course prerequisites
Multi-Instructor
Assignments
Download materials
Course attachments
Course FAQs
White label
Wishlist
Elementor integration
Manual enrollment
Selling
Stripe support
WooCommerce integration
Security
Pasword Strength Checker
Google RECAPTCHA
Advanced Quiz Builder
Advanced quiz
Additional question types
More quiz controls
Growth
Growth licenses can be used on an unlimited number of sites. All the features in the other two tiers are included, plus:
Gradebook
Zoom integration
Coupons
Content drip
Create Your LMS Using an All-In-One Solution
Masteriyo genuinely provides a "one-stop-shop" solution. You don't have to spend time figuring out which plugins will work well together to build your eLearning site. Even better, you don't have to write any code to create a full LMS on your WordPress site. Masteriyo has an easy-to-use interface and a wealth of documentation to assist you if you get stuck.