Are you evaluating the merits of email vs. push notifications?
Two of the best marketing strategies for boosting conversions and sales are push notifications and email marketing. However, how do they differ, and which one ought you concentrate on?
Which Is Better: Email or Push Notifications?
Email marketing and push notifications are two distinct marketing methods, and each has benefits and drawbacks. Both can assist you in achieving comparable objectives, such as raising conversion rates, bringing back abandoned carts, improving revenues, and increasing user engagement.
They can considerably aid you in expanding your web business when utilized appropriately. One strategy can be more appropriate than the other due to the different delivery platforms. For instance, in some situations, a push notification will be more effective than email, and vice versa.
As a result, let's compare push notifications to email to determine whether one is more useful than the other, what advantages and disadvantages each has, etc.
Email Marketing – Pros and Cons
The best marketing tool on the market right now is email marketing. What most people don't understand, though, is what makes email so powerful and when they are misusing it.
Email Marketing Advantages
The benefits of including email marketing in your business plan are as follows.
1. High ROI at Low Prices
As a business, you should consider the costs involved as well as the potential returns when making decisions. With email marketing, every dollar spent generates $44 in revenue. An ROI of 4400% is that (source). Because email marketing platforms are inexpensive, email marketing offers a very high ROI. With the help of these services, you may send thousands of emails to your clients for a very little price.
2. Greater Access to All Customers
Today, most internet users have access to their email accounts around-the-clock on a range of devices, including laptops, smartphones, and even smartwatches.
The typical internet user reads their email multiple times every day, and many individuals don't bother deleting emails because unrestricted storage is cheaper. This raises the likelihood that users will see your subject line and a snippet even if they don't open the email.
3. Suitable for Lengthier Content
Emails can be as long as you need them to be, giving you plenty of areas to write compelling material. Always try to keep it succinct and to the point. However, there are situations when you might need to expand on what you wrote in your email.
If necessary, you can add many goods, position multiple calls to action, give consumers instructions on how to perform a task on the website, and more.
4. Emails Can Be Customized More
Emails can be sent as simple text, or you can design eye-catching newsletter layouts using HTML and CSS. In addition, you may build buttons, add images, and link to YouTube videos. You may customize your emails with smart tags from the mass of email service providers. Moreover, you can divide the users on your email list into various user groups.
For example, you can divide the users on your email list into those who have already made at least one transaction from you and those who have never done so.
Additionally, you can configure automated drip notifications to send consumers a series of emails at predetermined intervals. All of this enables you to add more personality, professionalism, and persuasiveness to your emails.
5. Email Can Be Sent Anytime
In contrast, to push notifications, which require a user's immediate attention, emails are more laid-back and can be read at a later time.
The email will remain in a user's inbox once it has arrived until the user responds to it. The majority of users check their email numerous times per day, so even if they don't immediately open it, they will repeatedly skim the subject line.
Email Marketing Drawbacks
Email is inexpensive and very efficient. It will undoubtedly continue to be one of the best marketing strategies for companies in the future. Email does, however, put you at a minor disadvantage in several situations.
1. Too Many Emails about Blog Posts
It doesn't really work to contact users every time a blog article is published. especially if you publish frequently throughout the day.
Because of this, many blogs, send out weekly emails that summarize all the blog posts they produced during the previous week.
2. Competition in the Inbox of Your Customers
Daily marketing emails are received by the average internet user in large quantities. To get their attention, each of them strives to create a catchy subject line.
Your open rates are impacted by the fact that you are in a fierce battle for customers' attention with many other companies. You must learn how to create emails that recipients really open and respond to.
3. Low Priority Labels Can Be Assigned by Email Clients Like Gmail
Popular email programs like Gmail may not alert your users to fresh emails due to the high volume of marketing emails they get.
Among hundreds of other marketing communications, your email may be classified as a low-priority promotional email. Your email marketing can suffer as a result of lower visibility, open rates, and CTR. Although enabling DMARC will help you in this regard boosting the email's credibility.
Push Notifications – Pros and Cons
Push notifications have higher click-through and open rates than other types of marketing communications. Let's compare their performance to email marketing.
Advantages of Push Notifications
Here are a few benefits of employing push alerts in your marketing plan rather than emails.
1. Simple Subscription
Subscribing to push alerts is quite simple. To sign up for notifications, users only need to click a button.
Instead of having to first navigate through popups and opt-in forms to enter their email address, submit the form, and then confirm their subscription via double opt-in, visitors can now sign up for emails directly from the website.
When a consumer clicks the simple subscribe button for a push notification, it immediately disappears from their view. The majority of push notification programs provide one-click subscription alternatives.
2. Users receive messages instantly.
Users' screens show push alerts as soon as they are received. They don't have to open them individually, in contrast to emails.
They operate on all systems and are especially useful on mobile devices. Basically, regardless of the device they are using, people will receive the message promptly as a notification.
Push alerts become more noticeable as a result, and they become far more efficient than email marketing.
3. Push Notifications, Add FOMO and urgency.
Push notifications have a sense of urgency because they are mobile notifications that appear.
Users don't want to miss out on anything significant because they believe that if they ignore the notice, they won't see it.
4. Users Are Not Allowed To Provide Fake Signup
Users cannot submit fictitious sign-up information since push notifications operate on users' browsers.
When compared to email sign-ups, this is significantly more effective. Today, a lot of users provide temporary email addresses they created just for subscribing.
Users may also enter incorrect or fictitious email addresses while signing up. This impacts your email campaigns' open and CTR rates as marketers.
5. Exceptionally Effective Personalization
User activity can be used to customize push alerts for specific users.
Emails can be used for this as well. When paired with the FOMO and urgency effects of push alerts, it improves effectiveness.
If a user added a product to their cart, for example, you might utilize push notifications to encourage them to finish the transaction.
You can also include drip push notifications, which are excellent for blog post alerts and are sent by many publishers and blogs depending on user interests.
Drawbacks of Push Notifications
Most websites benefit greatly from push alerts. However, you must be aware of the following drawbacks to prevent abusing them.
1. No Protracted Content
The character limit for push notifications varies between devices and browsers.
For titles, you can use 30 to 70 characters, and for descriptions, 65 to 200.
Within these constraints, you'll have to keep your communications succinct and impactful.
2. A Dearth of Media Options
You can build rich push notifications with hero photos, GIFs, videos, and emoticons using some platforms. There are still some restrictions on how engaging you can make your notifications.
3. Can Easily Turn into An Issue
Due to its greater CTR, push notifications may be used more frequently by some website owners. As a result, users can start receiving more notifications than normal, which could damage their experience.
In contrast, if a person has registered for too many alerts, their notification panels may receive an excessive amount of messages from various websites, which may have an impact on how they feel about web push notifications.
Push Notifications or Email: Which Is Better?
Due to their greater click-through rates, sense of urgency, personalization, and simple subscription options push notifications to outperform email notifications. For transactional emails, upsells, newsletters, and other marketing, email is still very effective.
They are, in our opinion, two distinct tools. While one of them may be more effective in some circumstances, the other one might be superior in other aspects. The ideal win-win strategy for the majority of organizations is to combine email and push alerts.
How to Start Using Push Notifications
You must register with a push notification service in order to send push notifications.
One of the best push notification services available is PushEngage, which is why we suggest it.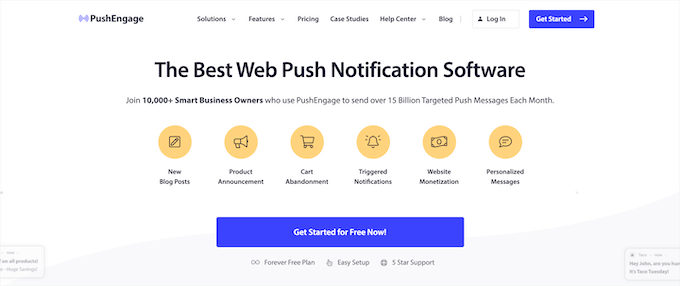 To help you expand your business, it offers strong customization possibilities, triggered notifications, automated drip campaigns, A/B testing, and other features.
Additionally, it requires no particular technical knowledge to set up and is very user-friendly for beginners.
How to start using an Email Marketing
To get started, you must register with an email marketing service.
Constant Contact is the greatest email marketing platform for bloggers and small businesses, thus we suggest utilizing it.
Constant Contact offers a simpler setup process, lovely email templates for all campaign types, engagement tracking, and dynamic personalization.