WordPress has grown to become one of the most popular open source Content Management Systems, powering and supporting over 60,000,000 blogs and web pages worldwide. Because WordPress is so extensively used across the world, there is a natural requirement for site content to be shown in other languages. With eCommerce sites being built with WordPress, it is critical to have a single site that is multilingually compatible. This allows users who speak different languages to use the website. WordPress multilingual plugins are designed specifically for this purpose.
WPML (WordPress Multilingual Plugin)
WPML is the most popular multilingual WordPress plugin, with over a million sites using it. It comes with 65 pre-configured languages and the ability to add additional languages and variations. It allows a single WordPress installation to function completely as a multilingual site.
WPML has the following features:
DeepL, Google, or Microsoft machine translation: Allows you to instantly translate your whole website and check the translations before posting.
Translation management that is adaptable: Select from automated translation, self-translation, providing text to translators, or connecting with one of the dozens of professional partner translation services.
Pages, articles, custom post kinds, menus, taxonomy, photos, and even your site's admin may all be translated.
Text translation for themes and plugins: WPML's String Translation will translate any text that is not contained in posts, pages, or taxonomies (such as widgets).
Multilingual and multi-currency e-commerce: With the integrated add-on, WooCommerce Multilingual, you can effortlessly develop and operate multilingual e-commerce sites and add numerous currencies.
Multilingual SEO optimization: Select a URL structure and translate page slugs, SEO meta, and titles.
Weglot is the most popular and widely used multilingual WordPress plugin on the WordPress Directory. The Weglot translation plugin was designed to make your translation process easier. It provides a dependable and simple approach to transform your website from local to global in minutes. Weglot works by automatically translating, identifying, and displaying the content on your website. Install Weglot, choose your desired language(s), and watch as Weglot performs the heavy lifting – you'll have a multilingual website up and running in less than 5 minutes. Then, using Weglot's easy interface, you can maintain and amend your translations, as well as request extra hand translations if necessary.
Weglot places a high value on multilingual SEO. Language-specific subdomains, hreflang tags, and translated metadata are immediately added to guarantee you're searchable in your new markets. Among the many advantages are:
Setup is simple and quick.
Best practises for multilingual SEO (including language subdomains and translated metadata)
Any theme and plugin (including WooCommerce) is compatible.
Human and machine translations
A one-of-a-kind dashboard with a 'in context editor' that allows you to easily change translations and invite peers to participate on projects.
Expert assistance: a completely dedicated technical support staff is available to you.
TranslatePress is a simple WordPress translation plugin that allows you to translate your complete site from the front end. You may translate the entire page at once, including output from shortcodes, forms, and page builders, using the interface. Additionally, it works with WooCommerce right out of the box.
Among the functions offered by TranslatePress are:
Translate all of your website's content from the front end.
Compatible with ANY theme or plugin (no further compatibility required).
Manual and automated translation (using Google Translate) are supported.
Language switcher that may be customised
WordPress, plugins, and themes have introduced support for dynamic (gettext) strings.
WooCommerce compliant
Translation blocks: connect numerous translation strings together to translate bigger sections of HTML with a single translation GPL & self-hosted (designed the WordPress way)
The following Pro Add-ons are included in the premium version:
Multiple Languages (allows you to add as many translation languages as you require)
Automatic User Language Detection (first-time users will be routed to the language of their choice depending on browser settings or IP address)
SEO Pack (includes Yoast SEO sitemap support for improving your multilingual ranking)
Accounts for Translators (create translator accounts)
Language Navigation (allows you to customise separate menu items for various languages)
Browse as User Role (allows you to explore and translate your website in the same way as a specific user role would. Useful for dynamic material that shows just for specific people)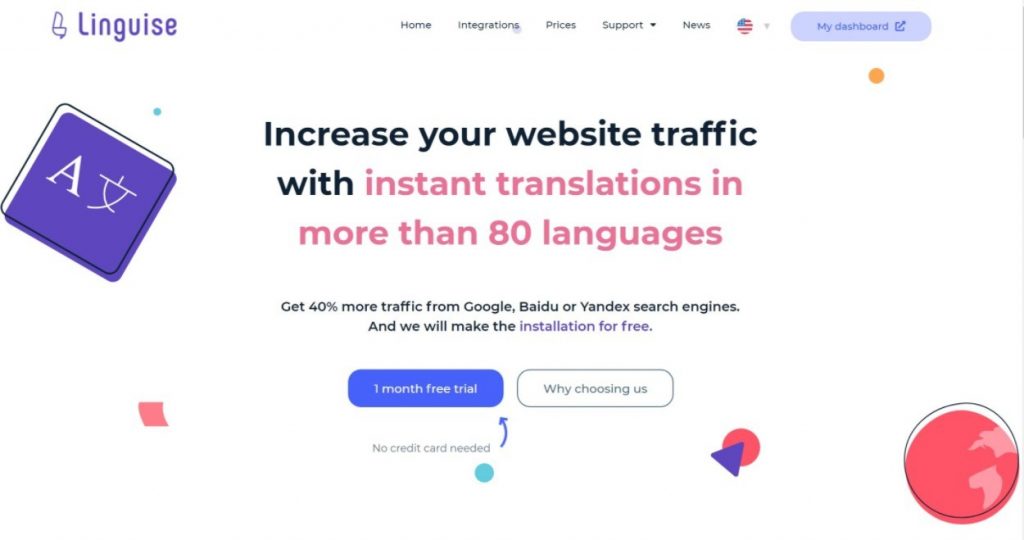 To translate your WordPress website automatically or using a hybrid technique (neural translation + content review), use the Linguise translation plugin.
They have worked very hard to address web businesses that provide translation services to their clientele. For example, they provide a very speedy installation procedure, instant complete translation of your old and new WordPress content, excellent international SEO optimisation, and the ability to assign multiple admin users, managers, and translators to each website.
Linguise's key benefits are as follows:
Implementation time is limited to 10 minutes.
Translations from neural machines that are of high quality.
An algorithm for optimising inline content (HTML) translations.
Multilingual SEO necessitates the indexing of translated information.
An administration interface for translators and administrators.
From the source, 100% of the translated information is modifiable.
There are 84 languages available.
Up to 400,000 translated words are free for the first month.
Every translated page is completely indexed.
Installations are provided at no cost.
This WordPress plugin comes highly recommended by pleased users. This plugin works properly with both single and multisite WordPress installations, and there is also a Pro version with additional functionality, as seen below.
Multilingual Press's free edition includes the following features:
It employs a configurable widget to link to all sites, and the site manager allows you to create an endless number of site associations.
It has a Language Manager that includes 174 customizable languages.
Under the post editor, you can see the translations for each post or page.
In a customizable widget, provide a list of links to all translations on each page.
Posts, pages, and taxonomy words such as categories and tags may all be translated.
Add translation buttons to any navigation menu.
There is no commitment: All sites will continue to function after they have been deactivated.
MultilingualPress Pro includes the following extra features:
Custom post kinds are supported.
Redirect the user to the desired language version of a post.
All translations for a post may be edited from the original post editor without switching sites.
Sites that are duplicates. Copy everything from one site to the next one: posts, attachments, plugin and theme settings, navigation menus, categories, tags, and custom taxonomies.
plus a lot more…
Polylang enables the creation of a bilingual or multilingual WordPress site. You compose articles, pages, categories, and post tags as normal, and then specify the language for each.
It is optional to translate a post, whether it is in the default language or not. The site editor does the translation because Polylang does not have an automatic or professional translation service.
Here is a basic rundown of the features available for Polylang:
You are free to use as many languages as you wish. Language scripts in RTL are supported. WordPress language packs are downloaded and updated automatically.
Posts, pages, media, categories, post tags, menus, widgets, and so on may all be translated.
The plugin supports custom post types, custom taxonomies, sticky posts, post formats, RSS feeds, and all WordPress basic widgets.
The language is determined by either the content or the language code in the URL, or you may use a separate subdomain or domain for each language.
When adding a new post or page translation, categories, post tags, and certain other metas are immediately copied.
A language changer that may be customised is available as a widget or in the navigation menu.
The admin interface is also bilingual, and each user may choose the admin language in his or her profile.
Conclusion
These plugins are fairly capable of handling user language compatibility. These plugins are closely connected to all blogs and web pages. However, the eCommerce platforms that use WordPress will benefit the most from these plugins.
And if you're looking for a slider plugin that is entirely compatible with WPML. Look into the Slider Factory Plugin. You can translate the slider plugin into your local language and several languages with the WPML plugin.