WordPress is the largest platform used by millions of non-English websites around the world. As we all know WordPress is famous for creating a website in any language. But WordPress does not provide any inbuilt feature to create multilingual websites. However, there are lots of good plugins that allow the user to add multilingual content to the site. Above all, there is a lot more you can do with these plugins.
Using these WordPress plugins does not require any special knowledge. The plugins are easy to use. With just a few clicks and changes, you are ready to go. Although you first have to build a translation-ready string in the theme, if you are a developer.
There are lots of translation plugins available in the market. So to clear the confusion of choosing a prominent one, we stacked up the list of popular plugins.
---
1. ConveyThis
If there is one truly convenient way to translate your website, it must be through ConveyThis! It is the most translated language plugin in the WordPress directory (over 38 language contributions) and is growing fast. ConveyThis makes it very simple to integrate into the WP website and activate as many as 100+ languages.
ConveyThis uses automatic machine translation to translate your entire site and adds a language switcher button. So within the first couple of minutes, you'll already have a working, SEO-friendly multilingual site. It comes with both free and paid plans. A free plan that lets you translate up to 2,500 words into one language, the paid plans use SaaS-style billing, which means you'll need to continue to pay for as long as you want to use the service. Paid plans start at €4 a month for one language and up to 10,000 words.
---
2. WPML
It is one of the topmost popular WordPress multilingual plugins. WPML has almost everything, it is packed with an outstanding translation management system. The plugins give you the functionality to translate all the content, themes, plugins, and more. The product comes with two plans, Multilingual blog and Multilingual CMS licensing. If you require it for eCommerce, page builder support, custom fields, managing translation teams, and some other features then you can select Multilingual CMS.
WPML comes with easy to use interface so that you can add translations and manage multilingual content across your website. The plugin can translate each and every string that is generated by WordPress themes and plugins. The translation supports all post types, taxonomies, custom fields, and strings.
Additionally, it also allows you to integrate your website with third-party translation service providers. That gives you the ability to select which content needs to be translated and will send it directly to your website
Pricing
$29 – Multilingual Blog version
$79 – Multilingual CMS.
---
3. Weglot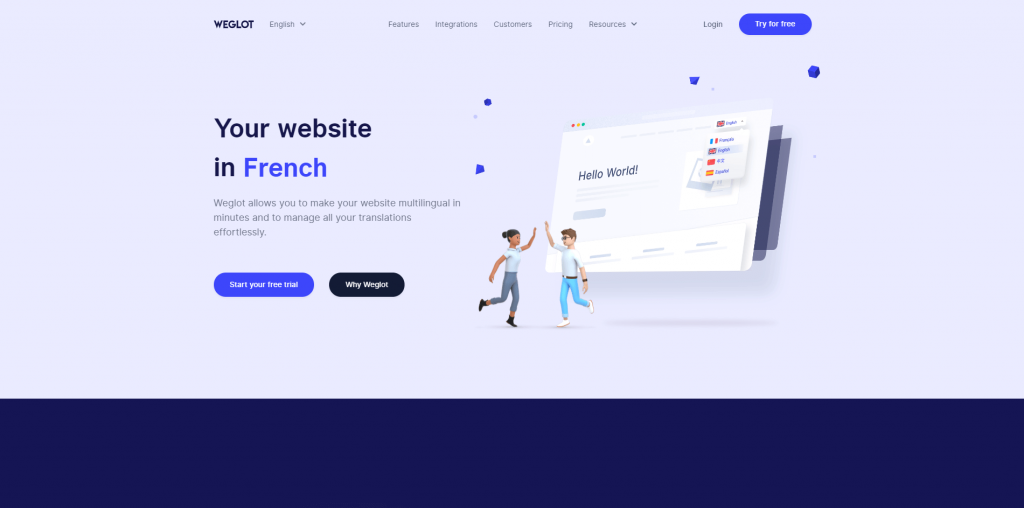 Weglot is an amazing website translation platform. It works with all platforms like WordPress, Shopify, BigCommerce, and more. Weglot is a cloud-based translation system. It connects your website through the Weglot API. Above all, you can translate all your content, manage all translations, and directly send them to your live website.
Although, firstly you have to set up the Weglot, for the that you need Weglot API key to connect your WordPress site to their platform. Furthermore, you need to select the preferred language, site language, and the languages you want to add. Other than that, included features like SEO-friendly URL support, WooCommerce support, language switcher button, and third-party translation services.
Weglot comes in a monthly pricing structure that is based on the number of words translated and languages. Which makes it quite expensive compared to the other translation platform.
Pricing
€8.25/month – 1 language – 10,000 Words.
€41/month – Unlimited language – 200,000 words.
---
4. Translate Press
Translate Press is the fully-functional WordPress multilingual plugin that can translate every aspect of your website. One of the finest translators that give the ability to translate your website directly through the front-end. Furthermore, you can easily switch between multiple languages during translations. The moment you select different the live preview will also change instantly. More it you can translate content, theme, plugins, and even meta-data without the need to change the interface.
Moreover, you can translate yourself or you can assign a custom translator role to any of the users on your website. By doing so you are giving special privileges to the selected user to translate content without giving them access to the admin area.
Other than this you can as well take the help of Google Translate for machine translations. Using Google, you can cross-check the translations with manual corrections.
The plugin is SEO friendly too, it creates SEO-friendly URLs for all languages and increases the chances of getting in search results.
Pricing
Personal – €79/year – 1 site
Business – €139/year – 3 sites
Developer – €199/year – Unlimited sites
---
5. Polylang
It is another yet powerful plugin to easily create a multilingual or bilingual WordPress site. The plugins are very simple to use. The simplified interface allows the user to easily add translations for their posts, pages, custom post types, widgets, and more. The demerit of the plugin is that it does not provide support to translate your WordPress theme and plugins, which is quite inconvenient. Another demerit is that plugin doesn't include eCommerce support, so you will need to purchase a paid addon for that.
Moreover, the plugin allows you to set up SEO-friendly URLs for each language. It works amazingly with popular WordPress SEO plugins. An additional feature, language switcher can also be added to your website using a sidebar widget.
Polylang is free to use a plugin with more to it if you purchase the pro version.
Pricing
Basic Version – Free of cost
Pro Version – €99 – Single Site
---
6. Multilingual Press
Multilingual Press is the WordPress translation tool with a different approach to creating multilingual websites with WordPress. The plugin uses a built-in WordPress multisite network for each language. This approach allows the user to manage content for each language and you can work on improving performance by loading one language at a time.
Work your ways with easy to use interface to manage your translations from a single dashboard. The plugin supports all types of posts, pages, custom post types, and taxonomies. Multilingual Press's different structure makes each of the languages have its own subdomain, directory, or even a custom domain name.
Thus, the plugin is an expensive one compared to the other translation platform.
Pricing
Standard – $199 – 1 site
Developer – $299 – 5 sites
Agency – $599 – 25 sites
---