Instagram has become a crucial component of every website now that so many people are spending time and energy on it. In addition to having a constantly updated gallery of images and improved content curation, you will also have increased social media engagement.
To learn more about Instagram plugins for WordPress, we've chosen ten of the best. Putting your feed on your site has several advantages. Let's find out why. Let's get started!
1. Instagram Feed Pro
Without a doubt, Instagram Feed Pro from Smash Balloon is the best Instagram plugin for WordPress. This plugin allows you to embed a custom Instagram social picture feed right into your WordPress website. Any post, page, or sidebar widget can be adorned with your Instagram feed.
Using the free version, you can choose how many pictures and columns appear in your Instagram feed. The "Follow" button can help you grow your following, and the "Load More" button helps visitors access additional photos.
Pro users, however, will have a lot more options, including:- Options for layouts such as masonry, a Carousel, and Highlights, Rather than displaying Instagram accounts, Hashtag feeds can be displayed, Filtering, and moderated posts are two important features.
2. Spotlight – Social Photo Feed
Spotlight provides you with a beautiful Instagram feed within seconds after connecting your account. A familiar live preview customizer in Spotlight lets you see the feeds you're creating without writing a line of code. Linked Instagram accounts and feeds can be created in multiple ways.
It boasts incredibly intuitive functionality in the block editor and its own section in Elementor where you can design your feed directly.
There are additional features in Spotlight Pro:- The hashtag will be displayed on all posts on Instagram using that hashtag, New designs, and layouts, Show posts in which your account is mentioned, Tools to filter and moderate, Promote WooCommerce products, pages, posts, and feeds with links.
3. 10Web Social Photo Feed
The 10Web Social Photo Feed free plugin displays your Instagram posts on your WordPress website in an elegant manner. The Instagram feed approach is well-suited for sharing a portfolio of images or if you'd like to substitute a gallery for an Instagram feed. Besides the two styles of display available on 10web, it also includes the use of a lightbox.
There is also also the option to show Instagram comments within lightbox displays, as well as transition effects for your feed images.
Some of the features are:- Users can sort images by multiple categories, Limit the images you display on your website, Your Instagram feed can be customized with two unique themes, and Keep your Instagram posts updated with comments.
4. Tagembed: Social Media Widget
Instagram feed WordPress plugin by Tagembed is currently one of the best WordPress plugins in the market. It provides a simplified embedding process that allows you to embed your Instagram feed on WordPress websites without technical or coding knowledge.
Alongside the mentioned specialty, the plugin allows you to customize the feed as needed. You can change the font size, font style, and more and make your Instagram feed more attractive and attention-grabbing. It also allows you to moderate the content from the feed and maintain the quality of the website.
Custom CSS, responsive widgets, and custom CSS are some of the other major features of the plugin from many. The affordable pricing plan is the icing on the cake and makes it an ideal WordPress plugin.
5. WPZOOM Social Feed Widget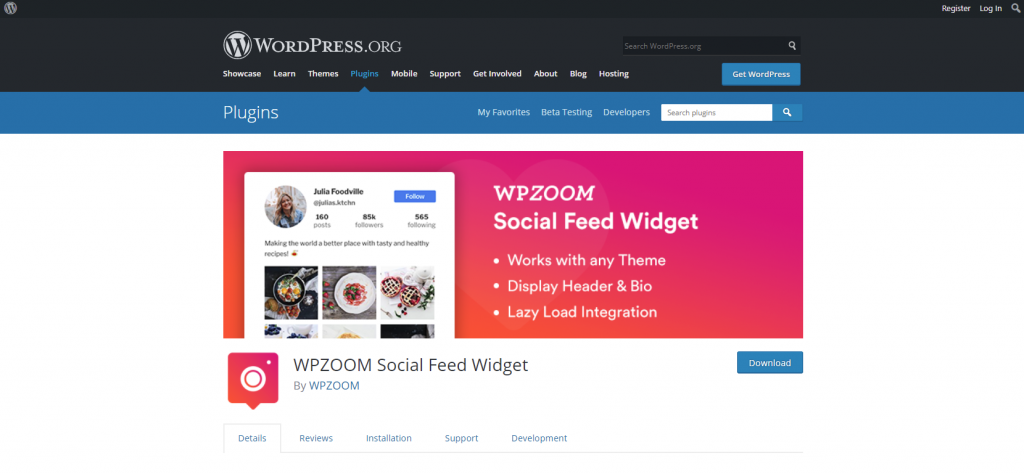 It offers you the ability to embed the WPZOOM Social Feed Widget anywhere on your website. This widget can be placed anywhere on any page or post. There is a basic customization option as well, which is how many columns you'd like to show, how many images to show, etc.
This plugin lets you decide how many photos to display, their size, and whether or not. As soon as you've selected your options, the feed will appear in your sidebar, footer, header, or even directly in a post or page.
Here are some key features:-Set up your feed to look the way you want, and Publish Instagram feeds using widgets. A widget area that spans the entire width of the page.
6. Raffle Press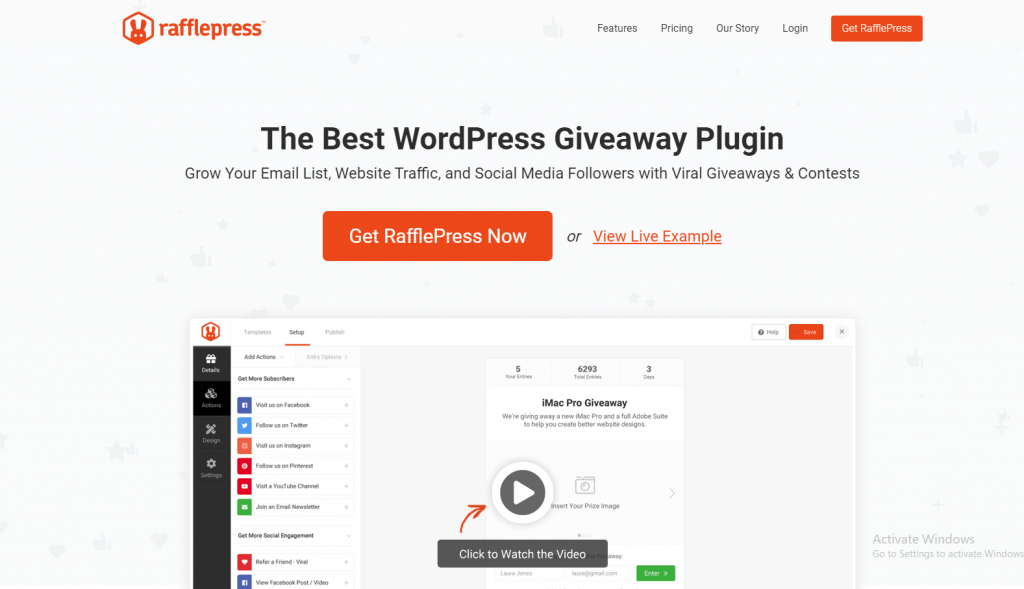 RafflePress is a plugin for WordPress that facilitates giveaways and rewards. Integrating it with Instagram will allow you to grow your followers. With RafflePress, you can create a contest that prompts your visitors to like, share, or comment on Instagram. Additionally, RafflePress can also encourage users to do other types of actions.
The following features are included:- The interface is extremely intuitive. To grow your email list, you should invite people to subscribe to your newsletter, Your giveaway should ask for specific actions from your visitors using Instagram, such as viewing a post, or visiting your profile, Your website should be visited by users of Instagram, A feature-rich solution for small businesses and websites. etc.
7. Social Slider Widget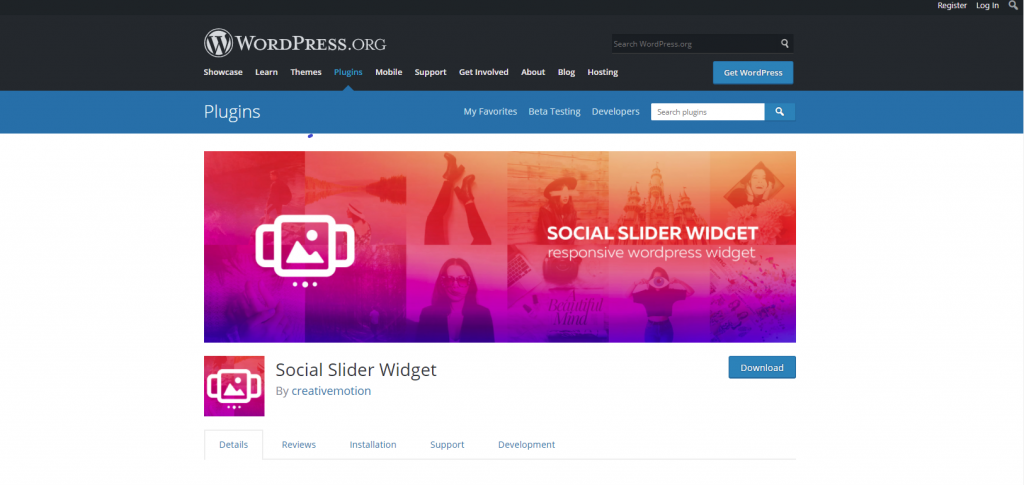 With the Instagram Social Slider Widget, you can customize the slider and link the slider to your Instagram profile. You can display feeds with widgets and shortcodes using this plugin, which allows you to connect as many accounts as you want.
You can display your feeds in a variety of ways using the Social Slider Widget, including sliding galleries. Plus, you can customize every style to display posts in the order you desire. Image sorting options include the date, popularity, and random.
Some key features:- Multiply the accounts on Instagram, Shortcodes and widgets can be used to display feeds.
8. Envira Gallery
Easy to use and fast, Envira Gallery is a WordPress plugin that can be easily installed. Additionally, it comes with a great Instagram add-on. You can add your Instagram images to WordPress using the Instagram addon, although this won't work alongside your other photo galleries
It consists of features:- Photos, videos, and lightbox popups are all available in the gallery, Links to Instagram images can be found on your blog, and WordPress allows you to display your Instagram images alongside other photo galleries or blog posts in a popup,
9. Simple Social Icons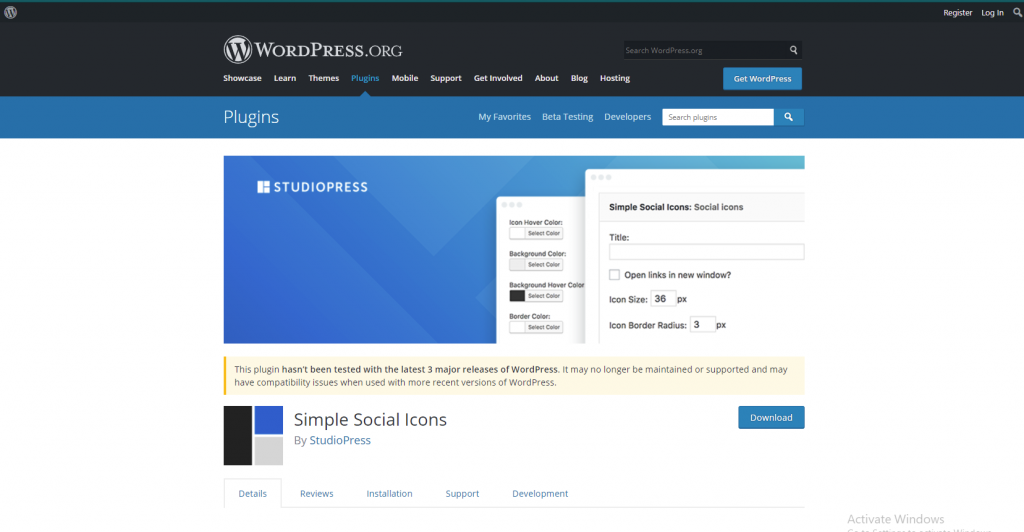 Social media icons are added to a widget's sidebar using Simple Social Icons Your Instagram profile and other social profiles are linked to these icons. It is very easy for your readers to follow you on these platforms.
This plug-in can be set up in just a few minutes using Simple Social Icons. Furthermore, the service is completely free.
The following are its features:- There is no need to mess with the setting page since all the action happens in the widget, Easy to configure and use, You can download it for free, Set the color and style of each icon to match your branding, as well as how they align on your website (left, center, or right), Multiple locations, including a sidebar, can be used to demonstrate the Instagram social icon.
10. Feed Them Social
Besides being an Instagram feed plugin, Feed Them Social does much more. It allows users to share content across various platforms, such as Facebook, Twitter, Pinterest, YouTube, and, of course, Instagram.
Users can choose whether or not to make their Instagram profiles public, as well as whether or not their profile stats should appear. As part of the Pro plan, you can also choose between two Instagram gallery styles and add infinite scrolling and a lightbox popup to your feed.
Aspects to consider:- Colorize the feed's font, Multi-platform sharing of feeds, Add feeds to your website using shortcodes, and Make your Instagram feed mobile-friendly by including a Load More button.
11. InstaShow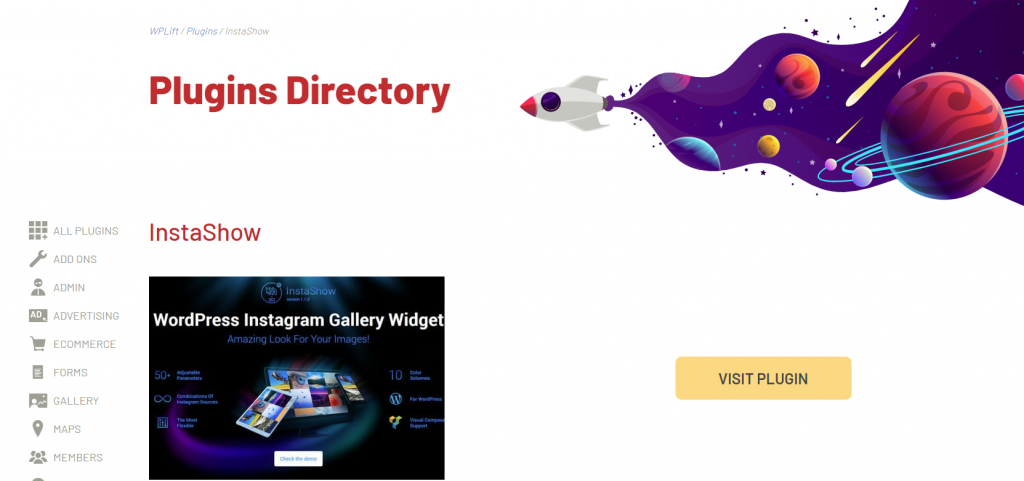 The widely-used premium WordPress Instagram plugin known as InstaShow was purchased over 14,000 times and has a super impressive 4.84-star rating from over 450 reviews on CodeCanyon. In comparison to free Instagram feed plugins, it has an impressive variety of options and styles.
Moderating your feed is an option if you desire. You can also customize your Instagram posts with special CTA buttons. If you own an eCommerce store, you can add a CTA to enable customers to purchase the product.
Features:- Layout options for grids and sliders, There is an option to create a carousel that is infinite, which is a neat feature, Whether to display posts individually or the regular Instagram look.