Did you know that Google can make changes to your Google Business Profile without informing you? Discover how to keep your profile up to date.
Claiming your Google Business Profile is a must-do for any local business that qualifies in order to help your business rank higher on Google.
Optimizing your business profile on a regular basis with content such as posts, new products or services, holiday hours, photos, and other updated information about your company keeps your listing fresh and current for potential customers.
However, did you know that the information on your Google Business Profile can be changed at any time? In many cases, these changes take effect without your knowledge.
Some changes to your business profile may have an impact on your business.
If your profile is modified, you should receive an email informing you of any changes or suggestions. There are, however, exceptions to this rule.
That is why it is critical that you keep an eye on your business profile and check for changes to your company's information on a regular basis.
To begin, let's look at how Google collects business information in order to change your Google Business Profile.
Then we'll look at the four most important reasons for these changes.
Why Does Google Alter Business Profile Data?
Keep in mind that some of the changes you've made to your profile may be beneficial.
For example, if you're breaking a Google policy and someone suggests an edit to fix it, they could be saving you from a Business Profile suspension.
You may not like the change, but it may bring you into compliance with Google's guidelines. That's great news.
Alternatively, if your business hours are incorrect and a customer corrects them on your Business Profile, it can save other customers from driving to your location when you're closed.
However, if a competitor changes your URL to their website or an inebriated student changes your high school's website to a porn site, the results can be disastrous.
In addition to the email alert, when your Google Business Profile is updated, you should see a blue notification in Google search when you manage your profile.
Check the updates to ensure they are correct.
Google's goal is to provide searchers with the most up-to-date and comprehensive information about a company.
It scours the internet and gathers data from a variety of sources to obtain accurate information about a company:
Information that is freely available to the public, such as a company website, citations/online business directories, government sources, and so on.
Google obtains licensed data from third parties.
User-supplied content, such as reviews, photos, suggested edits, Q&As, and so on.
Google receives information based on interactions with a local place or business.
Google's artificial intelligence technology was developed by Google.
Google may change the information on a business profile based on the information it finds or receives from these resources if it believes it requires additions or changes.
Many business owners become agitated when their information is altered. Remember that the company does not own its business profile – Google does.
Google Business Profile is a free service provided by Google that is essentially a community-generated and contributed-to profile. Google has always supported user-generated content – after all, that is what the internet is all about!
Furthermore, user-generated content provides additional information about your company to those who are interested in it.
Searchers receive information from business owners, customers, and other sources.
This provides people with a well-rounded understanding of what your company is all about, allowing them to make an informed decision about your company. Because many business owners fail to keep their business profiles current and updated, it makes sense for others – or Google – to update inaccurate profile information.
Let's look at some of the most common ways profile information is updated.
1. Suggestions from users
If a user believes that a company's business profile contains inaccurate information or that the company should be removed, they can suggest an edit or flag the business profile for removal.
"Suggest an Edit" can be done in Google search, Google Maps, or the Google Maps app.
In Google search, the "Suggest an edit" link is located directly in the company's Business Profile Knowledge Panel:
If a customer visits your company and discovers that your hours are incorrect, your website isn't listed in your profile, or there is any other incorrect or missing information, the user edits come in handy.
Competitors, on the other hand, can suggest edits if they discover you're breaking Google's guidelines – or simply want to cause havoc.
Edits will also be suggested by digital marketers in order to assist their clients.
For example, if a client's competitors outrank them due to violations of Google's guidelines, the client can combat the "spam" by reporting the rule-breakers with suggested edits or a Redressal Form.
It is simple to suggest an edit and have Google publish the changes if the user provides accurate information.
The business keyword stuffed their business name in the example below, which violates Google's guidelines. The suggested change was to correct the business name.
When users suggest edits, Google reviews them and decides whether or not to implement them.
The user received an email notifying them that their suggested changes had been published about five minutes after submitting them.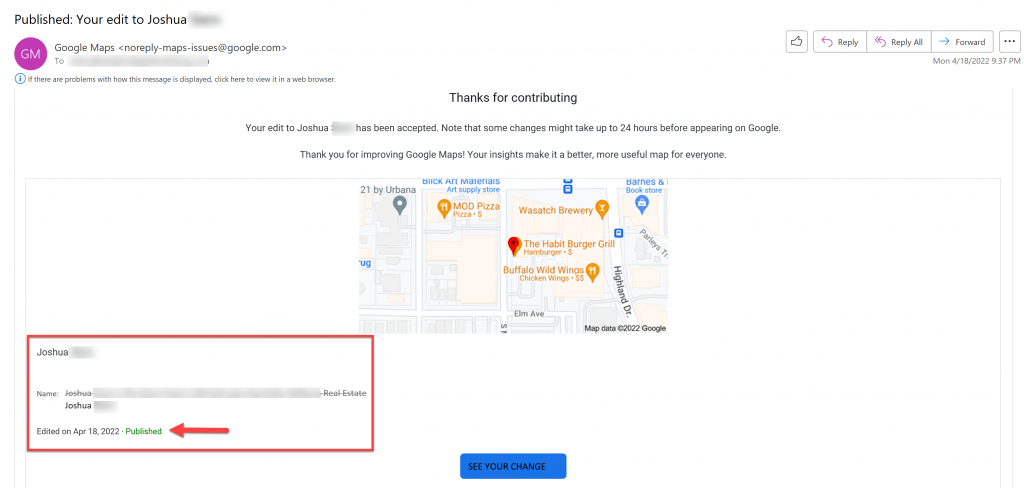 When you search for the business name, you will see that it has been changed and is now in compliance.
The "Know this place" link in a company's Knowledge Panel is another way Google gathers data about a business (which also helps confirm whether the information a business provides is accurate or not).
Customers who click on this link are asked questions about the company.
These questions are designed to help Google understand the business and validate the information provided by the business owner in their Google Business Profile.
Google Maps can also be used to make suggestions.
In addition to the standard suggested edits, such as hours, website URL, business name, and so on, users with the Google Maps App on a mobile device can describe a business's services options, highlights, accessibility, special food, and drinks, amenities, and so on.
As you can see from the user suggestions, this information provides additional information about this business to other searchers.
2. Google collects information from other online sources
Google may update or change information in your Google Business Profile based on information found on other online resources in some cases.
The descriptions Google generates under a business's name in the Knowledge Panel are an example of this type of change.
These brief descriptions are frequently found in restaurant business profiles, where they show some of the types of food the restaurant serves or information about the restaurant itself.
In one case, someone asked the Google Business Profile Help Forum to change their restaurant's Google dynamically created description because they no longer sold tapas.
However, "tapas" was a featured item on the restaurant's listing in one of the restaurant's online directories. As a result, Google was bringing in tapas from that citation site.
Google can also modify your business hours, name, and other information. Here's an example of how Google extended pickup hours for an appliance store.
However, it's difficult to tell where Google got this misinformation because the appliance store's website clearly lists their hours – and they're never open after 5:00 p.m.
Unfortunately for this business, the incorrect pickup hours were already live before the company had a chance to approve or reject these business profile changes.
This is yet another reason to ensure that the information on your website, citation sites where your company is listed, and other online resources exactly match your Google Business Profile.
3. A list of Google Business Profile-connected third-party tools
You may be using an app or software tool that is linked to your Google Business Profile without realizing it.
If you use optimization tools, you may even connect a tool to your business profile on purpose. However, these tools can frequently make unwanted changes to your profile.
Typically, before granting tool access to your business profile, you'll see a dialogue like the one below, in which Google confirms that you want to grant access to your Google Account.
It's also a good idea to look into which tools and apps have access to your Google Accounts, particularly your Google Business Profile. To see the tools you've granted access to, go to:
Go to Google Account Permissions.
To view the access rights for an app or service, click on it.
3. You can then decide whether you want that tool to continue having access to your business profile.
It's also a good idea to repeat this process at least once a month to ensure that no tools have been granted permission to your Google Accounts inadvertently.
4. Changes to Your Google Business Profile and How to Manage Them
This option to change information on your business profile is new, and we don't know how it will work, but Google is now using AI to update information on Google Business Profiles.
Using an AI algorithm, Google can update business hours on your Google Business Profile using various sources, including competitor hours, the sign on your storefront (as seen from Street View), suggestions from Google Maps users, and other sources.
Google intends to update the hours of over 20 million businesses worldwide over the next six months.
(Thus, keep a close eye on your hours!)
Keep an eye out for changes to your Google Business Profile
This information should help you understand the different changes that Google, users, competitors, and others can make to your Google Business Profile.
One of your most important local SEO strategies is your business profile. It's critical to double-check your information on a regular basis to ensure it's correct, no one has been tampering with it, and Google hasn't just made a huge mistake by incorrectly changing your information.