Artificial intelligence-based art generating technology is currently gaining popularity because it opens up new avenues for creative expression and because it can help organizations stay competitive in a rapidly changing digital environment.
Businesses both inside and outside of the creative industries might benefit from investing in AI art generators since these systems can produce visually appealing content to help them stand out in a crowded market. Discover the cutting-edge technology that turns creativity into breathtaking pieces of art.
Comparison of the best AI art generators
Users can experiment with various aesthetics, approaches, and styles using AI art generators, stretching the limits of conventional artistic expression. The top artificial intelligence (AI) art generators are contrasted here.
| Software | Text-to-image generation | Editing and upscaling of imported media | Art community access | Free software version | Pricing |
| --- | --- | --- | --- | --- | --- |
| DALL·E 2 | Yes | Yes | No | No | $15 per 115 credits |
| Midjourney | Yes | Yes | Yes | No | Starting at $10 per month |
| Jasper Art | Yes | No | No | No | Starting at $39 per month |
| Runway | Yes | Yes | Yes | Yes | Paid plans start at $15 per user per month |
| DeepAI | Yes | Yes | No | Yes | Paid plans start at $4.99 per month |
#1. DALLE 2: Best for user-friendliness
DALLE 2 seems to be the topic of conversation everywhere, and it makes sense. This web-based program is useful for producing top-notch, non-copied AI graphics from text cues. People like this AI model since it is easy to use, even for beginners.
As a descendant of its first image-generating model, DALLE, OpenAI created DALLE 2. You may be familiar with ChatGPT, another well-known AI product from OpenAI. The DALLE 2 interface is straightforward and self-explanatory, similar to ChatGPT, making it a reliable tool for anyone wishing to develop original AI graphics.
So, whether you want to produce a photo-realistic image or design an existing image, just define your requirements in simple language.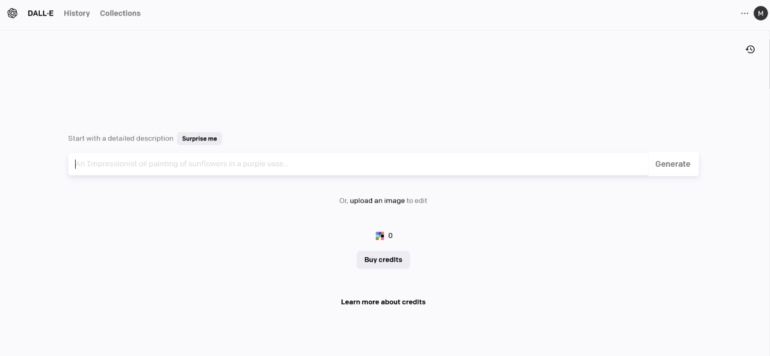 Features
User-friendly interface
The capacity to mix traits, styles, and ideas
Image enlargement or outpainting
Image altering/inpainting
Creating new iterations of already-existing photos.
Supports numerous Zapier integrations
Pricing
DALLE 2 costs $15 for 115 credits, which produce roughly 460 photos on the preset settings.
#2. Midjourney: Best for generating photo realistic art
As one of the best tools for producing photorealistic AI art, Midjourney is perfect for image upscaling. However, the Discord-based UI of the program is undoubtedly what distinguishes it the most. Users must use a Mac, Windows, Linux (deb, tar.gz), iOS, or Android smartphone to request the image generations from a Discord bot.
For those who don't know, Discord is a social chat service that is required to use Midjourney. However, if you create a Discord account and start asking the robot for photographs using specific commands, you'll get the hang of the procedure.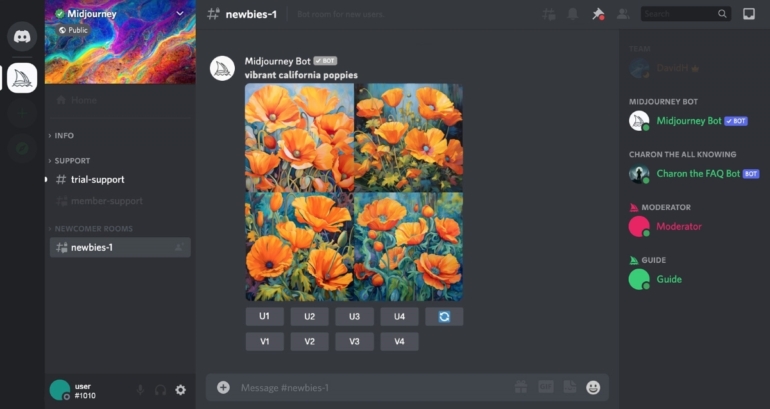 From there, users of Midjourney can access their public Discord channels to make requests for image generation and pick up advice from other program users. With this solution, you can easily join a community of other AI digital artists and produce astonishingly realistic generations.
Features
The capacity to modify and upscale imported photos
Creation of graphics from text descriptions
To increase artistic quality and realism, stylize functionality
Tile parameter feature for making repeated images
Pricing
Basic Plan: $10 billed once a month or $8 billed once a year.
Standard Plan: $30 invoiced once a month or $24 payable once a year.
Pro Plan: $60 for monthly billing or $48 for annual billing.
Mega Plan: $96 per month when billed annually, or $120 when billed monthly.
#3. Jasper Art: Best for professional use
Jasper Art enables marketing teams, content producers, business owners, and non-professionals to all produce distinctive and excellent AI images. The web-based service is open to all users, but there are a few characteristics that make it perfect for commercial use.
The model can produce unique works of art, pictures, graphics, and even 3D animations for use in marketing for companies and other non-profit organizations. And while it could cost more than some of the other AI art generators available, compared to other methods of acquiring art, it does save time and money.
If they make use of the service, marketing groups and experts can use it in addition to the Jasper AI writing generator. It's simple to produce visual art and expert writing using the variety of content production tools provided by Jasper for all of your company's needs.
Features
Unlimited image generation from text
Simultaneously produces four watermark-free photos
Various forms of art and design
Quick time of generation.
Photos at a resolution of 2K pixels
Free use in business settings
Pricing
Creator: $49 for monthly billing or $39 for yearly billing.
Teams: $125 billed monthly or $99 billed monthly on an annual basis.
Business: personalized pricing
#4. Runway ML: Best for video editing
Runway provides a collection of AI tools for creating and manipulating music, video, pictures, and 3D media. An extensive array of features and capabilities that go beyond those of your typical art generator are made possible by Runway AI's use of ML models in Runway.
The web-based platform offers a variety of tools for creating art, including text-to-image, AI animations, and video editing. Users can create original videos by using text prompts or even converting pictures into animated videos.
Aside from creating and editing videos, this is a comprehensive tool that may help artists tap into AI's creative potential. Since developers may also use the generator to train their own custom models and AI picture generators, it is perfect for serious professional applications.
Features
AI generation for text-to-video and video-to-video
Picture and 3D texture creation using text instructions
Scaling up an image's resolution
Video editing with AI
Specialized model training.
Multiple seats and shared resources
Pricing
Basic: Free forever.
Standard: $12 per month per user, or $15 per user payable monthly.
Pro: Monthly user billing of $35 or annual user billing of $28.
Unlimited: $95 per user on a monthly basis or $76 per user on an annual basis.
Enterprise: A quote on demand
#5. DeepAI: Best for customization
Users can create bespoke images that are perfectly suited to their requirements thanks to DeepAI's modification capabilities. An AI text-to-image generator that can create original artwork from a one-word text prompt is the open-source web-based solution.
For consumers who need to quickly produce a vector graphic with any resolution, DeepAI is a fantastic model. While DeepAI's commercial plans offer comprehensive options for creating and altering AI artwork, including numerous stylistic options for adjusting textures, colors, and other elements, making it a top AI art generator, the software's free version only generates art based on text prompts.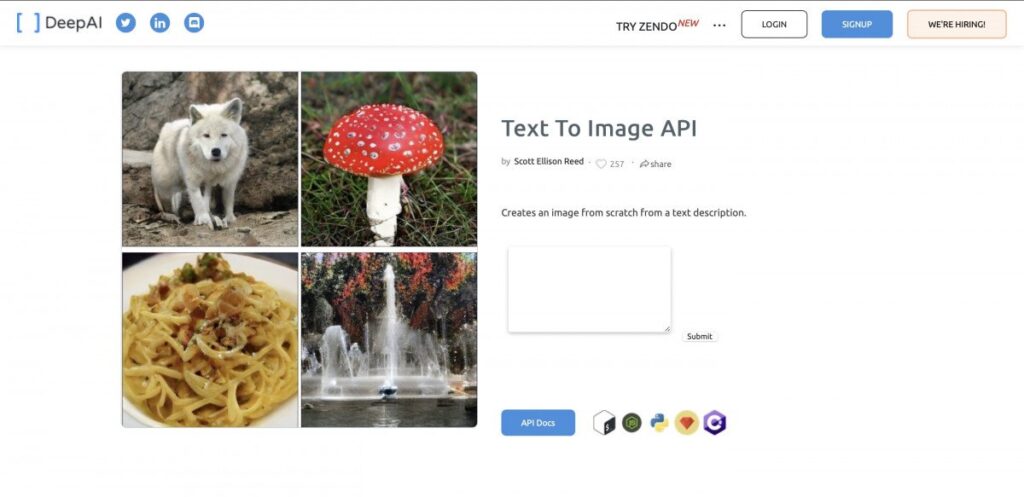 While DeepAI excels at producing stunningly realistic visuals, its extremely configurable nature allows users to realize their visions. Since no two generations are alike, the program also guarantees that its users can produce a limitless number of original works of art.
Features
Production of vector images without regard to resolution
Create fantasy-themed artwork using the Fantasy World Generator
BigGAN for making headshots
CartoonGAN creates cartoon-style animations
Capability for colorizing images
Pricing
Free plan: No cost
DeepAI PRO: $4.99 per month for 500 AI generator calls per month plus $5 for every 500 additional calls.
Advantages of using AI art generators
Users can explore and experiment with different artistic styles and parameters using AI art generators, which offer an endless supply of inspiration and help them push the limits of their creativity.
Regardless of one's level of artistic ability or expertise, these technologies provide accessibility, enabling anybody to participate in the creative process and generate visually attractive artwork.
Cooperative AI art generators can help users feel a sense of belonging and support.
By automating some steps in the creative process, such as creating or modifying images, AI art generators help users save time and effort.
These solutions' time- and labor-saving features can help firms cut expenses while creating expert content.