Are worried about your website security?
A WordPress security plugin is extremely important for a successful business online.
A website is attacked 44 times every day on average, so security is a serious concern that needs to be addressed. Without necessary security measures, you can lose some valuable data and could end up shutting down the business.
If you are running an online business, then online security measures should be your number one priority.
The following things can occur as a result of a security breach:
Your data can be stolen by online criminals
Your business and your customers' information can be exposed
Complete deleting of the website and all of its content
There is a risk that a malicious website will infect your visitors' computers, harming your brand and ranking in search results
A WordPress security plugin is imperative for all of these reasons.
How Can WordPress Be Made More Secure?
So, which security plugin provides the best WordPress protection and is the most appropriate for you? The following are the most popular WordPress security plugins:
1. Sucuri
Sucuri is currently the most popular free WordPress security plugin. The platform has found enormous popularity for a good reason. It offers security for all your WordPress websites.
A free version of Sucuri is a good security plugin for WordPress, but the pro version is what every website owner must have.
Sucuri is the WordPress dashboard plugin that's easy to set up. This plugin lets you scan your computer for malware (and remove it if necessary). Maintains a history of everything that happens on your website, including changes to files, last login attempts, and failed logins. The plugin can effectively reduce server load times and create a better user experience by blocking malicious traffic.
2. iThemes Security Pro
You might be familiar with the developers of iThemes Security Pro if you're a WordPress user. They also built the popular BackupBuddy plugin as well as other great themes and plugins. They offer tools that can be used for brute force security protection and more, all with an intuitive interface.
Talking about the features, the plugin comes with an additional layer of security is provided by two-factor authentication, a robust password enforcement system, and also scan plugins for 404 mistakes as well as malware. Automated backups for WordPress.
Moreover, blocks any suspicious IP that scans for vulnerabilities on your site, so it cannot gain access and emails you whenever a new file update on your site has been identified as being malicious.
3. Jetpack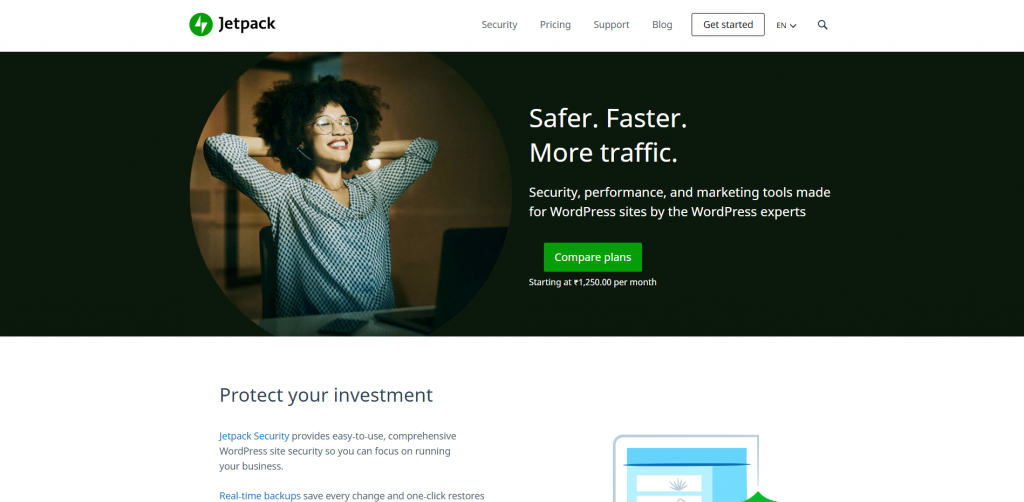 Our top list of WordPress security plugins includes Jetpack is another all-in-one solution. Its install base exceeds 5 million, and it allows you to easily check if your website is vulnerable to security attacks. Moreover, the plugin package includes website design features and automated marketing tools.
The jetpack comes with a variety of features:
Backups are performed in real-time to keep your site safe and secure
Detailed activity log to identify specific actions (or persons) that may have caused an issue
Decentralized malware scanning offers protection against security threats
Protects blog posts from spam by automatically deleting bogus comments
When your WordPress site goes down, it notifies you via email
The jetpack has both free and premium versions. The free or basic version comes with basic WordPress security. However, the Security Daily plan starts at $15.13/month billed annually.
4. WPScan
When it comes to website security, WPScan is another great plugin. This user-friendly tool is being used since 2012. It helps keeps your site safe and protected on the backend. In other words, it is a complete package for WordPress security. The plugins' database consists of thousands of different known threats and suspicious malware. It instantly reports any suspicious activity to you through email.
Moreover, it is an open-source tool with unique functionality. It can be used to scan remote WordPress installations to pinpoint security issues. Regular basis database update by community members to kept you safe from any new threat. Daily automated scans detect any malicious code that can harm your website.
Above all, the free version is the best suitable for all the websites. But if you are managing the big site and use a lot of plugins, the paid version of WPScan would be best.
The paid version starts at around $5/month. That is much cheaper than other platforms, which provide the same for more money.
5. Wordfence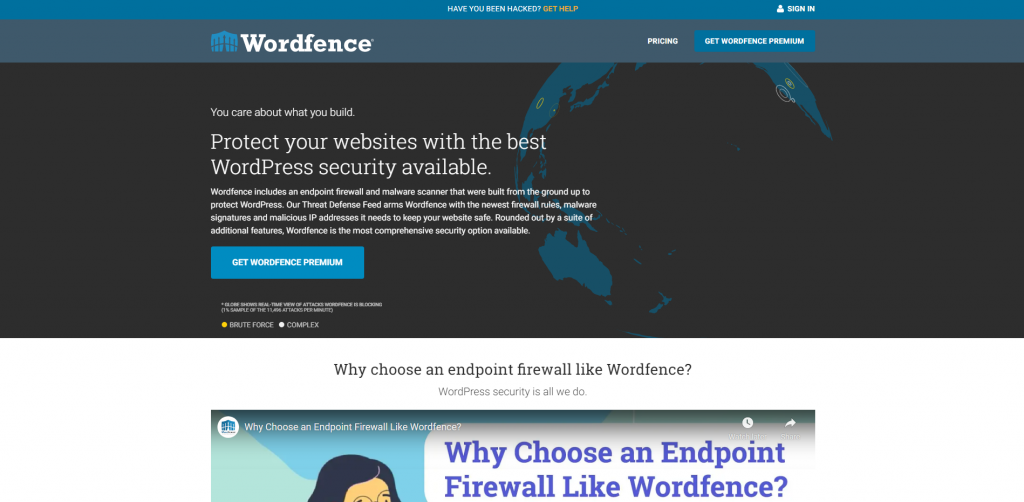 Security is a major concern when it comes to WordPress sites, and WordFence is an excellent WordPress security plugin. The free version can be used without spending a dime.
Wordfence is a WordPress security solution, Wordfence includes an endpoint firewall and malware scanner built from the ground up for protection. By using Wordfence's Threat Defence Feed, you are assured that your website will be safe from the newest malware, firewall rules, and malicious IP addresses. 2FA and a host of additional security features make Wordfence the most thorough WordPress security solution on the market.
You may choose to download Wordfence for free or pay for it. Pricing starts at $99 per year for the paid version.