Are you searching for the best places to hire WordPress developers? WordPress is a successful platform, and you will find thousands of people giving WordPress development services. Not all of them have the same skill set, expertise, and experience.
In this small article, we will show you the best places to hire WordPress developers with the right skills and experience for the job.
Why and When You Want to Hire a WordPress Developer
WordPress is pretty easy to use and most people do not need to hire anyone to build a website. However, as your website grows, your costs increase as well.
Multiple small and easy businesses can run successfully by applying the DIY approach. They can also hold the cost low by using as many free tools and free plugins as possible.
Once your website starts earning money, you may consider building a custom plugin or custom WordPress theme. In that case, you will need to look for a developer to help you get the job done in the right way.
Let's take a quick look at the best places to hire WordPress developers.
1. Codeable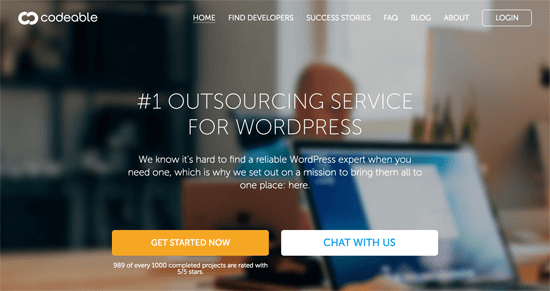 Codeable is the #1 outsourcing platform for WordPress similar work. Unlike various outsourcing programs, Codeable pre-screen each developer and make assured that they pass a strict vetting method process.
Your work with Codeable developer experts is 100% risk-free! Codeable stands behind you and will provide a complete refund if you are not satisfied with the results and work.
This is why Codeable is our top suggestion for businesses that are looking for WordPress outsourcing help.
2. Toptal
Toptal is an exclusive network of top freelance software developers, designers, and finance experts in the world.
They have a very rigorous screening process to only work with the best talent in the world. This also determines that hiring a freelancer from Toptal will cost you more than normal.
Our users have reported excellent results when working with developers from Toptal.
Since Toptal only highlights the most qualified talent, the rates for each specialist is higher than other sites. However, we have found that several specialists are also available for hire on another network where their rates are a lot lower.
If you are willing to do the leg work, then you will save yourself a lot of money while working with a special top-notch WordPress developer.
3. Upwork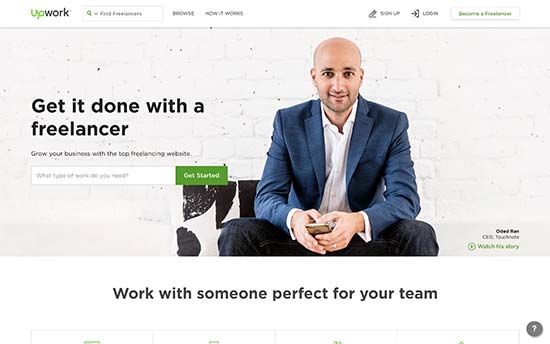 Upwork is one of the biggest online job marketplaces. You can post a job online with a complete description and prospective candidates can request for your job.
Each developer has specified profile and Upwork shows you several indicators about their earlier experience, jobs completed, ratings, skill tests, and many more.
You can select the most reputable developers and interview them. Platforms like Upwork usually have all levels of developers with different skills and experience. This also means that you can find the equivalence between your budget and the developer you want to hire for the work.
4. Freelancer
Freelancer.com is another extremely large online job marketplace. Related to other such platforms, it has a huge community of freelancers including experienced WordPress developers.
Freelancer does keep a detailed profile of every freelancer that you can review. You can also interview and interact directly with the freelancer to learn more about their works and experiences.
For each project listing, you will get answers from all levels of freelancers. While this means you can get a good developer at cheaper rates, it also means that you will have to do the due attention.
5. WPhired
WPhired is a WordPress specific job board famous among top WordPress companies and freelancers. It allows you to add your job posting for free. Though, you can subscribe to paid listings to get your job featured or listed for a more lasting period of time.
You can add full-time, part-time, and freelance gigs as well.
Developers can submit their resume by creating their own account. However, the platform also permits users to apply for the job without creating an account. This leaves all the screening and proper diligence work up to you.
6. WordPress Jobs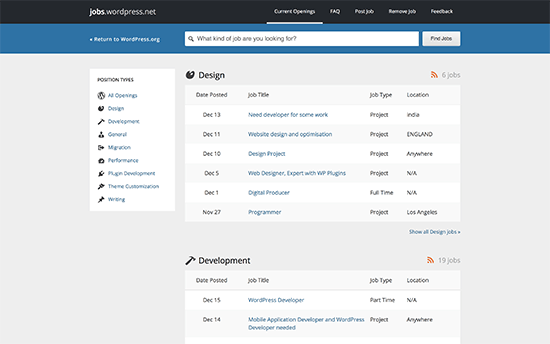 WordPress Jobs's website is a properly maintained job board by the groups behind WordPress.org. Job postings are simply free and you don't even need to create an account.
Job listings are skillfully organized into categories. Interested developers can contact you using the method specified by you in the job listing. You can progress to evaluate them on their own.
WordPress.org doesn't check job listings and has no control beyond what kind of developers contact you.
We hope this article helped you discover the best places to hire WordPress developers. we also suggest you read the Benefits Of Hiring WordPress Development Company for Business Websites
If you liked this article so you can follow us on Twitter and Facebook for more updates.