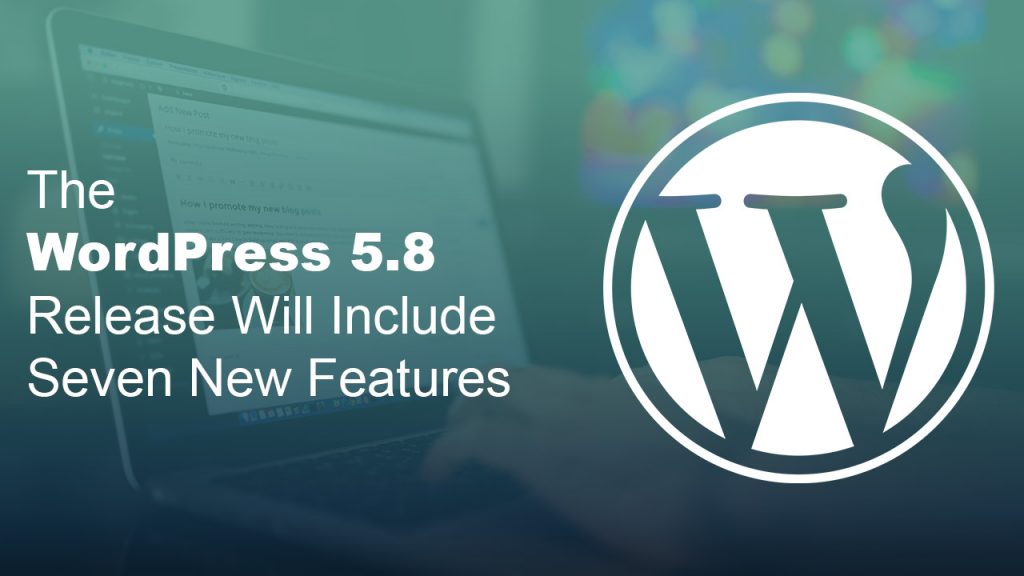 The release of WordPress 5.8 heralds a new era in web publishing. Here are seven new features in WordPress 5.8.
A content management system (CMS) is a software that enables you to manage and create your website content. WordPress is the most common and elementary CMS in the world. People mostly choose WordPress for its robust platform and greater flexibility via wide range of plugins and themes.
People who aren't programmers can use WordPress to create and distribute content. Over 41% of all websites on the internet use it as their platform of choice.
WordPress has grown over the years. WordPress 5.8, the platform's much-anticipated update, is scheduled for release on July 20th, 2021. WordPress admins will have more control over their websites with this version's new features.
1. WebP images are now supported by WordPress
CMS will now support WebP images, which is the most exciting feature.
In 2010, Google introduced WebP images, which offer better quality at reduced file size. Because WebP images have a small file size, they load faster, so users will have a better internet experience.
In the update, WebP images can now be saved and used in media libraries.
In this version of WordPress, your images will not be converted to WebP, so you'll need to do it yourself.
WebP images are supported by the majority of modern web browsers. It is possible to check whether your web browser supports WebP images on the Caniuse.com website.
2. Full-Site Editing In The New WordPress Era
In the next version of WordPress, Full Site Editing (FSE) will be a major update. The new block editor allows you to edit any element of your website, including headers, footers, and sidebars.
After the WordPress 5.8 update, you can use a theme that supports FSE functionality.
This feature is advantageous for WordPress site owners because it allows them to modify the design of their website without having to write any code.
However, WordPress developers will only receive a limited introduction to FSE with the upcoming release. Site builders will benefit from this first introduction by improving their awareness and abilities before next year's full implementation.
The following are some site-editing capabilities we expect to see in WordPress 5.8:
The improvements from Gutenberg 9.9+.
It should include the Query Loop (Post list), Site Logo, and Navigation blocks..
Editing templates in the block editor.
Integration with theme.json is now possible, allowing themes to define block defaults and settings.
Customizable widgets and a widget screen based on blocks..
The new blocks design features include duotone (SVG filters for images), layout adjustments, padding, and more.
During beta testing, most of the above features were not ready, but WordPress believes they will be available by release.
3. No WordPress on Internet Explorer
As of the latest version of WordPress, Internet Explorer 11 (IE 11), which is the default web browser on Microsoft's Windows 10, will no longer be supported.
Internet Explorer 11 is soon to be retired by Microsoft, so it will not be tested by WordPress and it will not be fixed with the CMS.
From June 15, 2022, Microsoft will no longer support IE 11. The WordPress login page will show a warning if you use Internet Explorer 11.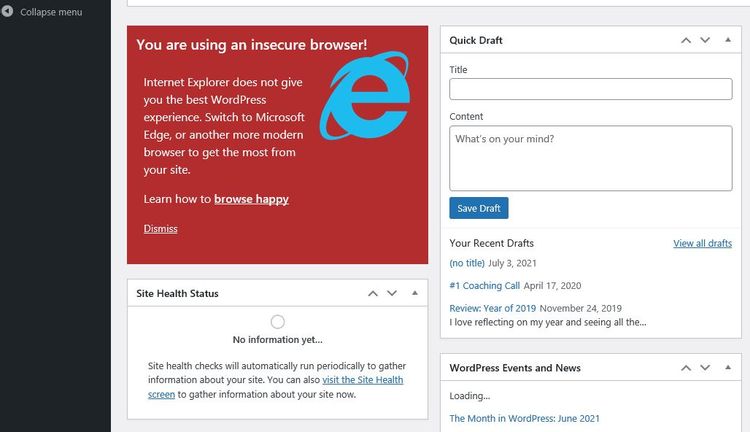 4. Edit Your Templates With The Template Editor
Using WordPress 5.8, you will have access to the template editor. Users can exit content-editing mode from the page-editing interface. From there, you can edit the general template. With this release, it would serve primarily as a tool for building landing pages and would be fully functional in future releases.
It is possible to create and store templates for your WordPress website using the template editor, in order to reuse them for future posts and pages.
Users and theme creators can turn off the function.
5. Gutenberg Editor Added New Blocks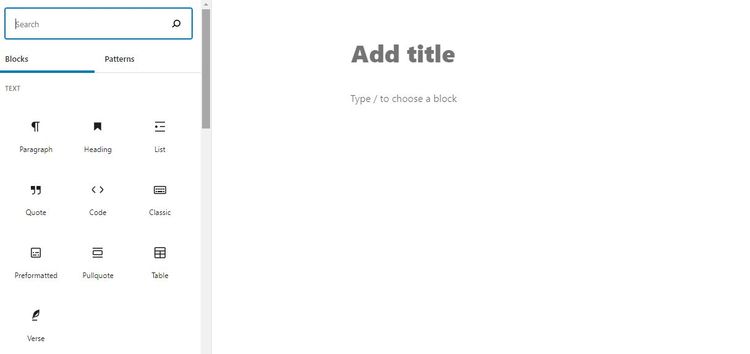 New blocks in WordPress 5.8 include page listings, site titles, and site logos. Along with the Query Loop block, WordPress offers several other ways to display posts.
Additionally, Duotone will be added to this release. The developers of WordPress themes and plugins will now be able to add new effects using this block.
6. Blocks Widgets on Screen
A new Blocks as Widgets feature has been added to Full-Site Editing. Site owners can now use any widget section from the theme's widget sections using the new Widgets screen and enhanced customizer.
Blocks as widgets extend the flexibility of the Block Editor to your WordPress sidebar widgets. To use colors, spacing, typography, or other design tools, you won't need to install any plugins.
You can access the new widget experience using the Customizer or by going to Appearance » Widgets.
By using the Legacy Widget plugin, users will be able to use and manage existing third-party widgets.
Traditional widgets that aren't yet available as blocks will be available as widget blocks. With Classic Widgets, you can also turn off the Widget Block feature. You will be able to disable Widget Blocks after installing and activating the plugin.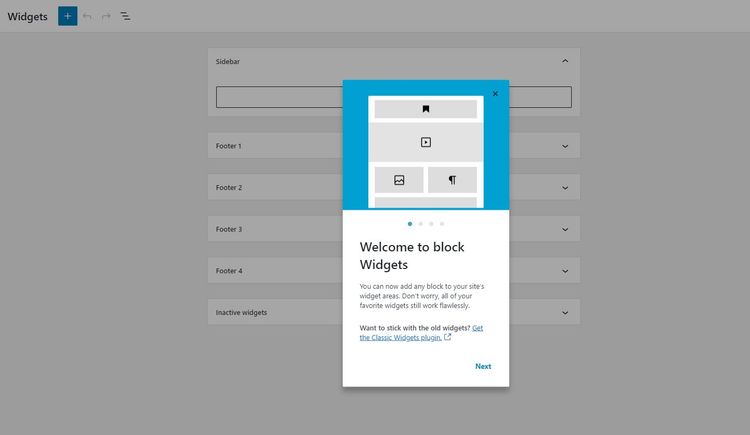 Developers will be able to experiment and incorporate many new features with WordPress 5.8.
7. A Pattern Directory to Speed Up Work
Searching for a block in the add block panel will automatically suggest patterns that you can add instantly.
Currently, there are many new patterns available. You'll also be able to choose from many options available in the pattern directory following its integration with WordPress.org.
Simply copy and paste your favorites from the Pattern Directory with a few clicks.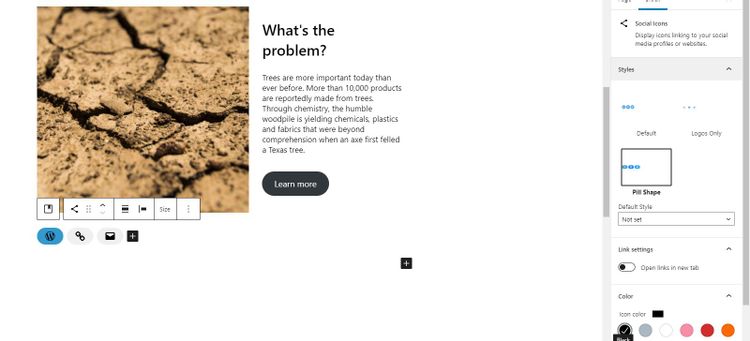 Conclusion
WordPress 5.8 will guide site traffic development by allowing more interaction between users and their sites. There are a number of exciting new features in WordPress aimed at simplifying site management.
The upcoming updates have been eagerly anticipated by owners of WordPress sites. WordPress 5.8 has already proven to be a major milestone for WordPress sites during various rounds of beta testing.