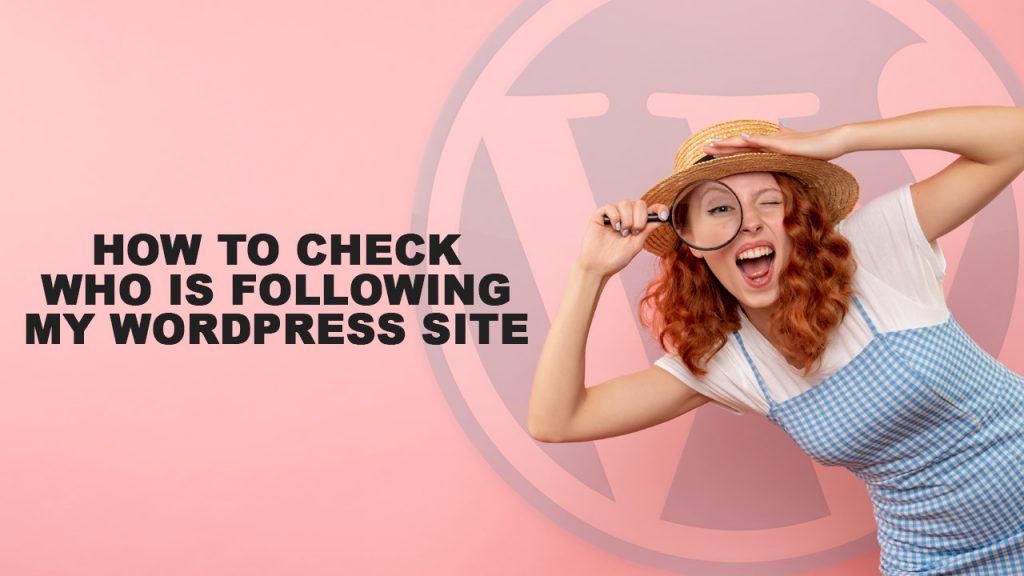 Want to know who follows your WordPress site?
Understanding your audience and improving your website to suit their needs will help you increase your traffic and attract more followers.
Let's take a look at how you can easily find out who is following your WordPress site in this article.
Are you interested in seeing who is following your WordPress site?
Using analytics on your WordPress website, you can gain a better understanding of how many people enjoy your content and who came to your site.
Observe your website followers for these tips:
What is the number of people following you across various platforms?
What devices do your visitors use and which browsers do they use?
Visitor favorites on your website.
The geographical location of your visitors.
By using this data, you will be able to create better user experiences, increase traffic, and increase sales on your website.
The following methods can be used to find your followers.
Analyze your website analytics
See who is on your email list
See who follows you on social media
See who has followed you via web push notifications
#1. Analyze your website analytics
You can get a lot of information about your website's visitors by looking at your website analytics data. Google Analytics makes viewing that data the easiest.
Analyzing your website traffic with Google Analytics allows you to learn where your visitors come from and what their demographics are. It can be difficult, however, for beginners to set up Google Analytics correctly.
That's why MonsterInsights is recommended. With it, you can easily add analytics to your WordPress website and track how visitors interact with it.
Data collection will take some time before your dashboard can display it.
The dashboard of your WordPress blog will display your Google Analytics statistics after you activate and set up the plugin.
Visit Insights » Reports to view detailed information about your visitors.
By clicking this link, you will be brought to a page where you can view all your website analytics data. The first thing you'll see will be your engagement metrics and traffic levels.
In the following pages, you will find more information about what devices visitors use to view your site, the countries they're from, what sources drive traffic to your site, and more.
Additionally, you can get detailed information on the pages on your website that generate the most traffic, the top pages visitors leave on, scroll depth and other metrics.
On the left side of the page, click on the 'Publishers' tab for the full report.
By gathering all this data, you will be able to get a better understanding of your visitors.
#2. See who is on your email list
The list of people who follow your WordPress site is a valuable source of information about your WordPress site visitors as well as a way to make money online.
Still haven't set up an email list? A good email marketing service provider is the first thing you need to get started.
In the case of small businesses, Constant Contact is the most effective email marketing service.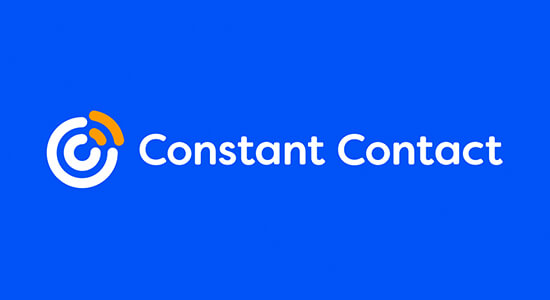 Following the setup of your email list, you can view the subscriber information. To begin, you will need to log in to your Constant Contact account.
After clicking on the "Contacts" menu option, click the "Contacts" tab. Your email list size and subscriber information can be obtained from this step.
By sending emails, you will receive data on how engaged your subscribers are. Active subscribers open and click on your emails more frequently and reply to them.
Using Hubspot, ConvertKit, Drip, etc. works similarly.
#3. See who follows you on social media
Almost every social media account allows you to view your followers right from your profile.
For instance: Go to your Instagram profile and click on the link that says 'followers' to see your followers.
This shows your followers in a popup.
The profiles can be viewed by scrolling and clicking on the links.
On other networks, such as Facebook, you can see the ages, genders, countries, and languages of your followers.
Click on the 'Insights' menu icon, then click on 'Audience' to access this information.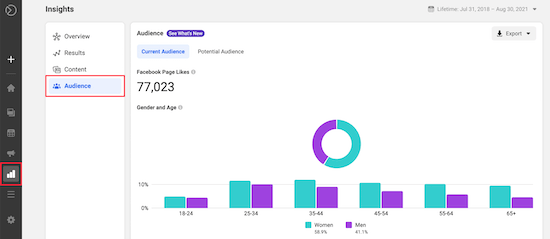 This will display all followers of your Facebook page.
The easiest way to display your social media followers and follower counts in WordPress is to display your social media feeds. Adding social proof to your website can boost engagement and social proof.
Smash Balloon is the best plugin for adding your social media feeds to WordPress. Using this collection, you can add social feeds to your website from Facebook, Instagram, Twitter, and YouTube.
#4. See Who Has Followed You via Web Push Notifications
Subscribing to push notifications is another way people can follow your WordPress website. Notifications let you reach mobile and desktop users even when they are not on your site.
In most cases, 70% of users will never return to a website after leaving it. Push notifications allow you to easily keep these visitors coming back.
A sample of the design is shown below:
Push notifications allow you to reach your followers instantly, without having to wait until they open their email, which makes them exceptionally useful.
With PushEngage, WordPress users can add push notifications easily. Thousands of businesses trust it to send push notifications.
After enabling and configuring the plugin, you can see your follower stats. It displays useful information such as their location, device type, and more.
On PushEngage, go to Analytics » Subscriber Statistics after logging in to your dashboard.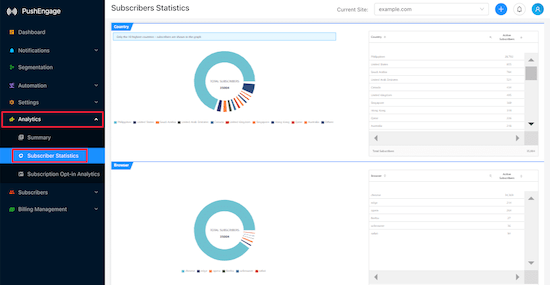 The 'Summary' tab will also allow you to view your subscriber list.
A note about following WordPress.com
You can see who follows your WordPress blog using the methods above. The WordPress dashboard does show follower stats if you use WordPress.com.
Simply click on 'Stats' on the admin dashboard, and then on the 'Insights' tab to view your followers.
Scrolling down, you can see the sections for Follower Totals and Followers.
A list of your followers will appear here, along with their usernames and the length of time they've been following.
We hope this article helped you learn how to find out who has followed your WordPress site.