With the growing number of online influencers, photo and video tools are in great demand. Almost all users are searching for fast photo editing solutions. In addition to creating youtube video banners and thumbnails, many video bloggers use photo editing software to visualize their creativity and arts on Instagram.
There are a lot of picture editing tools and brands available on the market with both free and paid licenses. Various types of users use image editing tools based on their needs, including professionals who pay for their work once and the general people who wants it for a free one.
In order to find the best photo editing tools, we have searched the Internet for those that are free to use or offer free trials.
GIMP
The GIMP is free and open-source software for editing pictures on a computer. GIMP is a cross-platform image editor available for a variety of operating systems, including GNU/Linux, macOS, Windows, and more. GIMP gives you the tools necessary to become a graphic designer, a photographer, an illustrator, or a scientist.
The range of customization options available in GIMP, along with the addition of third-party plugins, will increase your productivity even further. A high level of image manipulation is possible with GIMP. Digital and printed media can be reproduced with high-fidelity color reproduction thanks to GIMP's top-notch color management features.
Darktable
Darktable is a raw development and workflow program for photographers that is free source. It keeps track of your digital negatives in a database, allows you to examine them on a zoomable lighttable, and allows you to develop and improve raw photographs. This editor is for professional photographers like a virtual lighttable and darkroom.
Darktable is completely color managed, with built-in ICC profile support for sRGB, Adobe RGB, XYZ, and linear RGB color spaces, as well as automated display profile discovery on most systems. JPEG, CR2, NEF, HDR, PFM, RAF, and other standards, raw, and high dynamic range picture formats may all be imported into that tool.
For some camera brands, tethered shooting functionality for instrumentation of your camera with live view is available. You can save photos in low dynamic range (JPEG, PNG, TIFF), 16-bit (PPM, TIFF), and linear high dynamic range (PFM, EXR) formats.
Photo Pos Pro
Photo Pos Pro is just a complete photo editing suite that includes everything you'll need to enhance your photos and create stunning artwork. Create, edit, improve, print, and transform your digital photographs and computer graphics with ease, and create eye-catching designs with easiness.
Photo Pos Pro version 4 offers both free and paid photo editing tools, giving users a wide range of options in the fields of image enhancement and editing. You can perform a wide range of operations using the editor, from simple to complicated. Filters, Layers, Masks, Curves, Scripts, Effects, Brushes, and other basic professional functionality are supported by Photo Pos Pro.
If you're new to the application, you may quickly learn how to use it in a straightforward manner. Beginning users can use the program's Help system to guide them step by step through the interesting world of Digital Picture Enhancement.
PaintShop Pro 2022
With new AI capabilities, impactful tools, and features, you'll get results as unique as your photos. That tool enhances every photo with one click using artificial intelligence and machine learning technology. With composition guides, the Golden Ratio, and the Rule of Thirds, it's easy to crop the focus of your photos.
You can make your photos more attractive by adjusting Brightness, Contrast, Fill Light, and Clarity. RAW Lab in PaintShop Pro lets you manage metadata in your RAW files and correct problem areas. Scripts allow for faster and more efficient photo editing by reducing repetition. For an easy way to create photo composites, make use of multiple non-destructive layers when editing images.
Trial Period: 30 Days
PhotoScape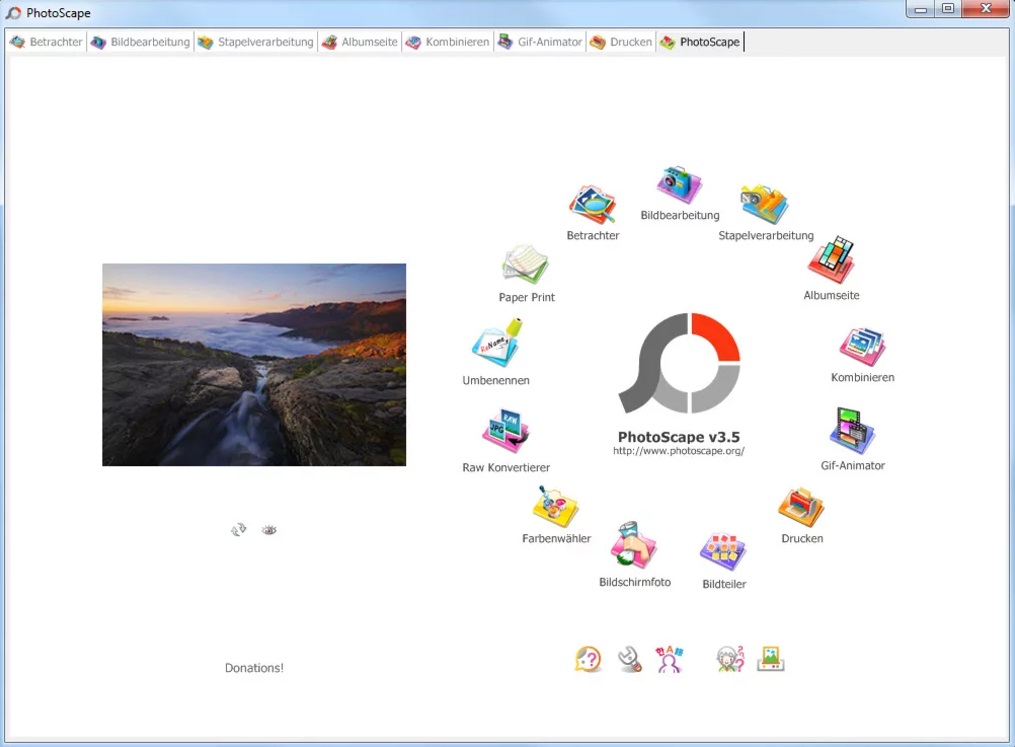 PhotoScape is a simple and enjoyable picture editing program that lets you fix and enhance your photos. Resizing, brightness and color adjustments, white balance, backlight correction, frames, balloons, mosaic mode, text addition, drawing pictures, cropping, and filters are all available in the editor. Edit numerous photos in a batch with the batch editor.
Features:
Viewer: Browse your folder for photographs and build a slideshow.
Animated GIF: Create a finished animated shot by combining various photos.
Printing: Print portrait shots, CVVs, and passport pictures.
Screenshot: Take screenshots of your screen and save them.
Color Picker: Zoom in on photographs, search for colors, and choose one.
Raw Converter: Convert RAW files to JPG photo format.
Face Search: Use the Internet to look for others with similar pictures.
Adobe Photoshop Express
Adobe Photoshop Express is a free mobile image editor and collage maker from Adobe Inc. The software is available for iPhones, iPads, Android phones, and Windows tablets. It may also be downloaded from the Microsoft Store and installed on a Windows PC running Windows 8 or above.
The Adobe Photoshop Express app is a free program that puts photo magic at your fingertips. To enhance the beauty of your photos, use Adobe Photoshop Express. To achieve amazing results, use sliding bar adjustments or automatic one-touch repairs.