Each time a new gadget is introduced, it makes our lives more convenient and entertaining or gives us smart ideas for gifts for family members or friends. So we've compiled our list of the coolest, new gadgets you'll love in the newest wave of innovative tech out there right now.
We have all the gear you need – whether you're looking for speakers and headphones to enhance your listening experience, fitness band, and smart trainers to boost your fitness, speakers, and headphones to enhance your home entertainment, or just trying something new.
Nothing Ear
The new wireless earbuds are the most hyped new product in technology right now. The product is supported by iPod inventor Tony Fadell and YouTube vlogger Casey Neistat, who will bring premium performance to the wallet-friendly price point. At his previous mobile phone company, OnePlus, Carl Pei had experience with unfussy handsets with powerful processors.
We can't comment on the sound at this point, but we love the retro-futuristic design. The earbuds are highly durable, water-resistant, and equipped with customizable gesture controls.
Buy now from Amazon (£99.99)
Sony HT-A9
Sony's new speaker system is intended to be a handy solution for home cinema enthusiasts who don't want to spend too much time and effort draping wires all over their living room. The HT-A9 system consists of four wireless speakers that communicate with a control box that is connected directly to your TV. The four speakers are simply placed around you, and the setup works by echolocating each speaker and calibrating it to your room and to you. To provide the full Dolby Atmos experience, each device contains a tweeter, a sub, and an upfiring speaker. If you connect these to a Sony TV, your TV's speakers will also be used to enhance the sound.
£1,599.00,  sony.co.uk
Zephyr PRO RGB sweat-proof gaming mouse
In games like Fortnite, Call of Duty, or Apex Legends, you've probably experienced the sweaty palms that come from being abused online over voice communications by cocky 12-year-olds. There wasn't much you could do about it… except keep a chamois cloth by your console and a chalk dish. Its honeycomb outer shell contains a tiny fan that blows cool air onto your palms as you play. Additionally, the mouse uses the most current, most accurate sensors to keep your inputs crisp and dry.
$59 (£43 approx), marsback.com
FLEXOUND Pulse
A whole new sense is added to your cinema experience with the FLEXOUND Pulse chair: touch. A horror movie could literally shake you to your core, while the orchestral opening to the next Marvel film will make your hair stand up. Instead of loudspeakers blasting audio from films, the Pulse chair is featured with speakers built directly into the seat structure. Its sound is all you'd expect from a movie theater, plus it allows you to feel frequencies of up to 1,000Hz.
It has been designed to be used in cinemas, but it can be licensed to furniture manufacturers who are willing to put their bodies where the action is. Moreover, FlexOund envisions a future with car brands, creating 'sound zones' for every passenger or making quiet electric vehicles sound like they have eight cylinders.
£TBC, flexound.com
Meeting Owl Pro
Working remotely and online meetings have become part of everyday life, and technology has stepped in to make the process more efficient and immersive, with the meeting owl pro being a great example.
It comes with a 360-degree camera, 8 microphones, and a speaker to simulate an in-person meeting while away from colleagues. This advanced video conferencing solution integrates with Zoom, Slack, Google Hangouts, and more. With an 18-foot audio pick-up radius and automatic zoom triggered by speaker volume, it's among the most sophisticated pieces of gadgetry out there.
Buy now from Amazon (£890.00)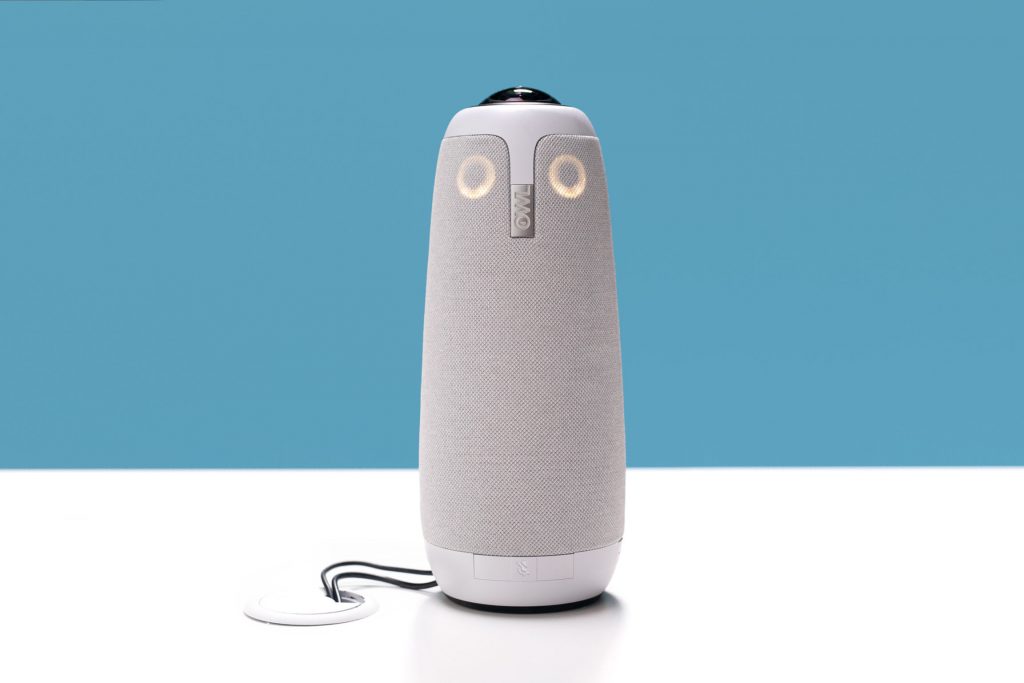 Furbo Dog Camera
If you want to keep in touch with your collie while you are out of the house, this full 1080p HD camera allows you to see your pup at all times. You can always keep an eye on your pedigree with a 160o wide-angle lens, 4x zoom, and infrared night vision mode.
In addition to the barking alert, the app provides a two-way chat system so you can comfort or calm your dog if he's upset. Even better, you can keep your pet entertained with a fun game of catch by remotely tossing them treats, which can store over 100 treats.
Buy now from Amazon (£265.00).
Syng Cell Alpha speaker
In the world of home audio, it's rare to find something so unique that we're interested. In announcing the world's first 'triphonic' speaker, the founder of Syng claims that the product uses three speakers to reproduce sound in a more accurate way.
This isn't totally crazy, but we'll have to hear one in person before we can give our verdict. The company actually recommends that you buy three speakers if you have spare cash lying around.
$1,799 (£1,274 approx), syngspace.com
SRS-NB10 Wireless Neckband Speaker
Did you know that listening to music doesn't mean you have to shut the world out? Sony's new Neckband speaker lets you rest your ears while firing your audio towards them. Integrated microphone and Bluetooth connectivity allow you to take calls or listen to music up to 30 meters from the device – no more excuses for taking a break during a meeting to grab a drink.
Likewise, the upward-facing angle of Sony's full-range speaker doesn't disturb your partner or roommates, as Sony claims it optimizes sound for your ears alone – though we have to take that one up with ourselves! It weighs only 113g, making it both lightweight and comfortable. Available in charcoal gray or pristine white.
Buy now from Amazon (£135.00).
Belkin magnetic phone mount with face-tracking
This motorized stand, which tracks your face while you move around a room, works with any iPhone 12 with face-tracking.
You can easily magnetically snap the iPhone 12 into place, so you can quickly and easily start working.
£44.99, buy now from Belkin
DJI FPV drone
Are you interested in becoming a drone pilot? DJI's new drone beams its camera's view straight to your headset back on earth. The drone shows you the view it takes.
Pilots who compete in drone races use it for easy operation. Drones can travel at a maximum speed of 140km/h (87mph) and can reach speeds of 0-60mph in just two seconds. Because its maximum range is 10km (6 miles), you'll need a spotter who can watch for obstacles below while you fly.
Unless you have more than 25 minutes of flight time, you won't be able to get too much out of this tech.
Buy now from Amazon (£1329.00).
We hope you've found all these gadgets fascinating, and this blog has been helpful to you.