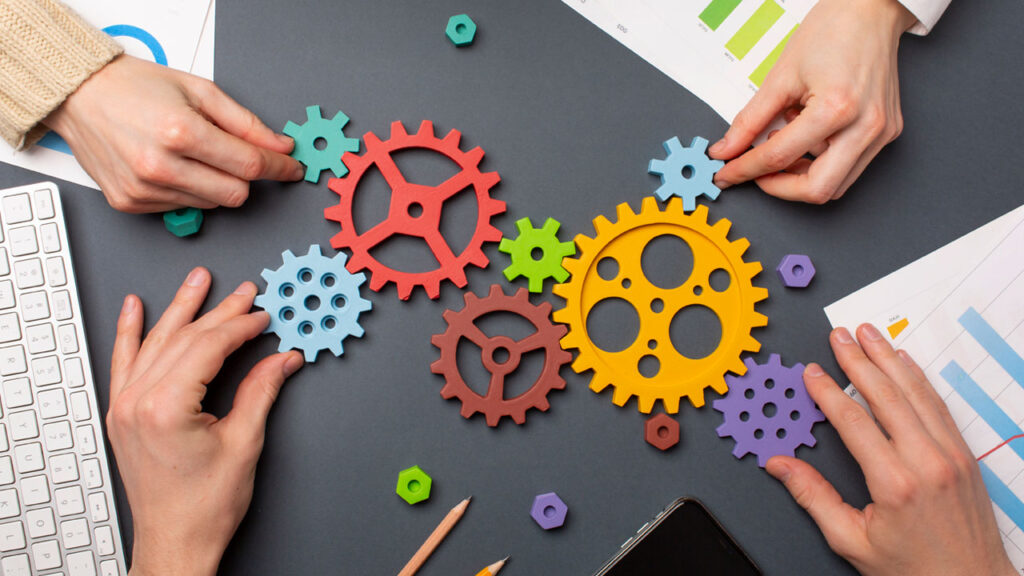 Workflow management software, often referred to as workflow management systems (WMS) or workflow automation software, is a type of software application designed to streamline and automate the execution of various business processes and workflows within an organization. These processes can range from simple tasks like document approvals and data entry to complex, multi-step processes involving multiple teams and departments.
Key features and capabilities of workflow management software typically include:
Process Design and Modeling: Users can create, define, and design workflows visually, often using drag-and-drop interfaces or flowchart-like diagrams. This allows for the mapping of the entire workflow process, including tasks, decisions, and dependencies.
Task Assignment: The software can assign tasks to individuals or groups within the organization based on predefined rules or criteria. It ensures that the right people are responsible for specific tasks.
Automated Routing: Workflow software can automatically route tasks and information to the next appropriate person or team in the workflow. This reduces manual handoffs and delays.
Notifications and Alerts: Users receive notifications and alerts when they have tasks to complete or when a task is approaching its deadline. This keeps the workflow on track and ensures timely execution.
Integration: Workflow management software often integrates with other software systems and applications used within the organization, such as CRM (Customer Relationship Management), ERP (Enterprise Resource Planning), and document management systems.
Data Capture and Forms: Some workflow software allows for the creation of digital forms and data capture mechanisms that can be used within the workflow. This helps in gathering and processing information efficiently.
Reporting and Analytics: Users can generate reports and gain insights into the performance of workflows, identifying bottlenecks, areas for improvement, and overall efficiency.
Security and Compliance: These systems typically offer robust security features to protect sensitive data and ensure compliance with regulatory requirements.
Workflow management software is used across various industries and departments, including human resources, finance, marketing, healthcare, and manufacturing, to automate and streamline business processes, increase efficiency, reduce errors, and improve collaboration among team members. It plays a crucial role in optimizing an organization's operations and resource utilization.
Monday: Best for customizable workflows
Monday is a powerful workflow management software that offers customizable workflows, task tracking, and a variety of team collaboration tools. It's a great tool for both large and small teams in any sector.
Why choose monday
Monday is simple work management software that scales to any size business. Business owners may establish boards for employees, manage specific projects, and see who has pending work with a few mouse clicks.
Monday templates are readily available for specific aspects of your organization, such as sales and content development. You can further tweak these templates to create a workflow that is unique to your company.
Features
Dashboards and data visualizations.
Analytics and reporting.
Scheduling tasks and employees.
Business process automation.
Pros
Automation
A visually appealing dashboard.
Clarifies ownership and attribution.
There are almost 200 templates.
Cons
Smaller teams will find it difficult.
Mobile apps are less feature-rich than desktop apps.
Agile sprints are not seamless.
Pricing
Free: There is no charge for up to two seats.
Basic: $8 per month per seat, invoiced annually; or $10 per month per seat, billed monthly.
Standard: $10 per month, invoiced annually; or $12 per month, billed monthly.
Pro: $16 per month, billed annually; or $20 per month, if billed monthly.
Asana: Best for managing task dependencies

Because of its simple user interface, Asana can be tailored to any workflow. It is suitable for project management due to its team cooperation, streamlined user experience, and wide feature set.
Why Choose Asana
The emphasis on task interdependence in Asana makes it easier to guarantee that work flows smoothly and projects are finished promptly. Asana is a valuable solution for businesses looking to optimize communication because to its visual layout and customisable views.
Features
Tasks can be imported.
Features for project scheduling and planning.
Setting and tracking objectives.
Tracking development in real time.
List views and Kanban boards.
Pros
Collaboration-friendly project management software.
A user-friendly interface that is simple to utilize.
Compatible with third-party apps such as Slack, Dropbox, and Google Drive
Cons
No time tracking.
Customization is limited.
A bewildering array of options.
There is no Gantt chart.
Pricing
Basic: There is no charge for individuals or teams that are just getting started.
Premium: $10.99 per month per user, invoiced annually; or $13.49 per month per user, billed monthly.
Business: $24.99 per month per user, invoiced annually; or $30.49 per month per user, billed monthly.
Smartsheet: Best for visualizing data
Smartsheet, with its spreadsheet-like style, provides users with a versatile way to organize tasks. Users can handle tasks and timelines in a systematic manner.
Why Choose Smartsheet
Smartsheet is a workflow application that focuses on collaboration and project management. It enables teams to operate more efficiently by providing numerous tools, dashboards, and data visualization features. Its dynamic spreadsheet format makes it ideal for big projects requiring vast volumes of data and real-time collaboration.
Features
Data administration via a spreadsheet interface.
Gantt graphs.
Dashboards and reports are used to visualize data.
Automated Processes
Pros
This is ideal for small enterprises or initiatives.
Automation of work processes.
Dashboard that is easy to use.
Collaboration software.
Cons
Integration constraints.
Exports are restricted.
It is not scalable.
Pricing
Free: It is cost free for one user and up to two editors.
Pro: $7 per month billed annually, or $9 per month billed monthly.
Business: $25 per month, invoiced annually; or $32 per month, billed monthly.
Wrike: Best for agile workflows
Wrike is a complete workflow management solution built with agile characteristics. It enables teams to use customized workflows, collaborate in real time, and design bespoke procedures.
Why Choose Wrike
Wrike is an expert in collaboration and visibility. It has Gantt charts and workflows that may be customized. Businesses can use its automation and task-tracking features to streamline the workflow process for diverse projects.
Features
Works that can be customized.
Agile project management software.
Automation of repetitive tasks.
Communication and collaboration in real time.
Pros
Collaboration software.
Tasks, timeframes, and follow-ups are all scheduled.
Task management.
Highly adaptable.
Cons
There is a lack of integration with other apps.
Filtering options are limited.
It takes a long time to download and upload stuff.
Pricing
Free: There is no charge for an unlimited number of users.
Team: $9.80 per month per user for 2-25 members.
For 5-200 users, the monthly fee is $24.80 per user.
Pinnacle: Please contact sales for a customized quote.
Quixy: Best for easy automation
Quixy's no-code capabilities make task automation easy for team members. The tool, which is ideal for application development, provides firms with numerous options for creating custom procedures.
Why Choose Quixy
Quixy is a workflow management system that focuses on no-code automation. The software's non-technical user interface allows users to construct automated workflows and apps. It's great for business owners looking for a way to handle large-scale projects.
Features
Workflow that does not require any coding.
Process and document generation customization.
Sharing access rights.
Workflow mapping automation.
Monitoring and analysis in real time.
Pros
Workflow automation without coding.
Customizable.
Integration with other systems is simple.
Cons
Initially difficult to set up.
Advanced customization necessitates technical knowledge.
The user base is smaller than that of other workflow management tools.
Pricing
Solution: Request a personalized quote from sales.
Platform: $20 per user each month for a minimum of 20 users, payable annually.
Jira: Best for software development teams
Jira is a powerful workflow management system with customized workflows. It has agile project management features as well as integration with multiple technologies.
Why Choose Jira
Jira specializes in issue tracking and bug management. It's a must-have for software development teams setting up protocols for discovering, assigning, and resolving faults and malfunctions in current software development.
Features
Development that is iterative.
Project management.
Time management.
A bug tracker with powerful search features.
Roadmaps.
Pros
Strong problem tracking.
Workflows that can be customized for agile approaches.
Extensions have a large market.
Cons
It is difficult to set up.
The user interface is not user-friendly.
Non-technical team members will find it difficult.
Pricing
Free: There is no charge for up to ten users.
Standard: $7.75 per user, payable monthly; or $790, billed annually, for 1-10 users.
Premium: $15.25 per user per month, or $1,525 for 1-10 users per year.
LucidChart: Best for visualizing processes and diagramming
The diagramming and visualization tool from LucidChart helps teams communicate and brainstorm more effectively. Several analytics and reporting options are provided by workflow management software to assist firms in making educated decisions.
Why Choose LucidChart
LucidChart displays workflows and processes graphically. It's perfect for reporting and analysis, with multiple ways to view data. LucidChart provides visual representations of data such as diagrams, flowcharts, and mind maps.
Features
The mapping of processes.
Templates that can be customized.
Diagramming visually.
Pros
Clearly communicates complicated ideas.
Integration with other tools is simple.
Diagrams, flowcharts, and mind maps can be created quickly and easily.
Cons
There are no project management features.
Collaboration features are limited.
Loading times are slow.
The free version is very limited.
Pricing
Free: There is no charge for three editable LucidChart documents.
Individual: $7.95 per month per user.
Team: $9.00 per month per user.
SmartSuite: Best for managing large projects

SmartSuite includes a plethora of productivity and collaboration features. It addresses a variety of corporate needs, from project management to making document exchange quicker and more efficient.
Why Choose SmartSuite
SmartSuite is an all-in-one bundle of collaboration and productivity applications. Zoho Docs, Projects, and CRM are a few examples of applications. The suite enables business owners to use numerous tools to construct an optimum workflow management strategy for their company.
Features
Visualization of data.
Importing data.
Formulas.
Tables for Kanban.
Updates in real time.
Time management.
Automation of work processes.
Pros
Flexibility.
Task management.
Customization.
Simple to use.
Cons
In comparison to other software, it is quite new.
A steeper learning curve.
Large information databases might be challenging to import.
Pricing
Free : Up to three users are free.
Team: $10 per month per user, invoiced annually; or $12 per month per user, billed monthly.
Professional: $25.00 per month, billed annually; or $28 per month, billed monthly.
Enterprise: $35.00 per month billed annually, or $41.00 per month billed monthly.
What are the advantages of using workflow management software?
Workflow management software can aid in the completion of various projects by streamlining the workflow process, reducing redundancy, and streamlining the workflow process. These are just a handful of the advantages of adopting workflow software:
Enhanced efficiency
Workflow management software can help you save time by automating operations, optimizing procedures, and keeping team members up to date on the status of various projects and tasks.
Increased visibility
You should not have to wonder what your teammates are up to. Workflow management software provides clear insights into what team members are currently doing, what's next for them, and how far the team as a whole is from completing a job or project.
Setting goals and milestones
Set measurable goals and milestones that everyone on the team can follow.
Convenience
Communicate, share files, and monitor tasks all in one place. Many of these products include integrations that enable you to use a variety of third-party solutions that may be critical to your business operations.
Data reporting
Data visualization in workflow management software simplifies reporting. Get a clear visual depiction of your company's data. Make judgments based on the data collected by your software.
Wrapping Up
In conclusion, the advantages of using workflow management software are numerous and impactful. By enhancing efficiency, increasing visibility, facilitating goal setting, providing convenience, and offering robust data reporting capabilities, this software empowers organizations to work smarter, not harder. It not only streamlines operations but also fosters collaboration, ensuring that teams can work seamlessly towards their goals while staying well-informed and data-driven. Adopting workflow management software can be a game-changer for businesses seeking to optimize their processes and achieve greater productivity.